Ashley HomeStore and Gwinnett Braves host Hope to Dream event at Coolray Field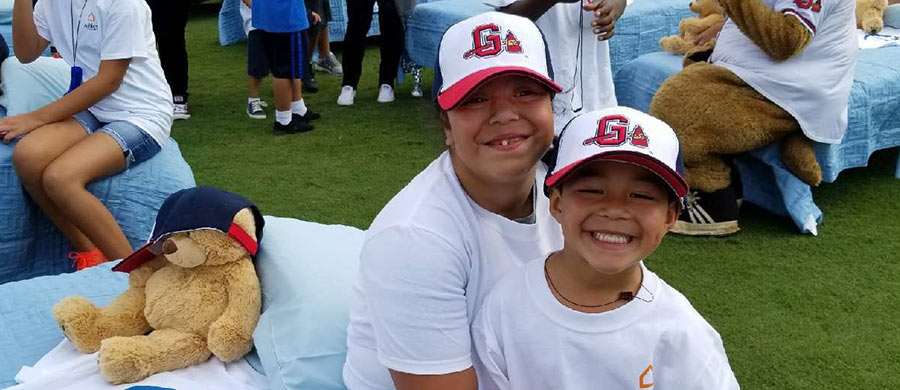 Atlanta, GA — Ashley HomeStore and the Gwinnett Braves (G-Braves), hosted deserving families from the Atlanta area for a back to school Hope to Dream event at Coolray Field, home of the G-Braves International League Baseball team, on Sunday, August 27th. Ashley HomeStore, the largest furniture retailer in the U.S., dedicates a portion of proceeds from every mattress sale at participating locations to its Hope to Dream program, which has donated more than 50,000 new beds and bedding to children in need since 2010.
Upon arriving at Coolray Field, the children and their families were welcomed by volunteers and picked up their new beds and backpack gift bag. Included were various school supplies, a Hope to Dream t-shirt, an Ashley HomeStore motorized fan, G-Braves ball cap and other G-Braves souvenirs. Afterward, the families were invited to a pre-game celebration where they were able to take pictures on the field with G-Braves players and their mascot, Chopper the ground hog, run the bases, play catch on the field and visit the Marathon Kids Zone which included bouncy houses, slides, tours and more. Each of the children were provided with tickets to the game for their family and $10 in food vouchers.
Ashley HomeStore was the gameday sponsor for the one o'clock game between the Gwinnett Braves and the Charlotte Knights. The Hope to Dream program was highlighted on the jumbotron as the children were recognized. The children were also able to participate in the flag raising ceremony, the first pitch and took turns as batboys and batgirls to run bats to the players.
The Gwinnett Braves are proud to partner with Ashley HomeStore on the Hope to Dream event at Coolray Field, said North Johnson, General Manager for the Gwinnett Braves. We hope the experience will be one these kids and their families will remember for a lifetime. Thank you to Ashley HomeStore for the work they are doing to better the lives of so many individuals in the greater Atlanta area.
What better way to celebrate going back to school than a family outing at the ballpark, stated Tarsha Terrell, Hope to Dream Ambassador. We are excited to give these kids a great start to the new school year by providing them with the comforts of getting a good night sleep so they can do their best in school!
If you know a deserving child between the ages of 3–16 who needs a new bed, visit A Hope to Dream Opens in a new window, then fill out and submit an application, or email HopeToDream@AshleyHomeStore.com with questions.
---
About Ashley HomeStore
Ashley Furniture Industries, Inc. (Ashley) feels that every person deserves more value for their money. Established in 1945, Ashley is one of the largest manufacturers of home furnishings in the world. From design through fulfillment, Ashley is committed to delivering the world's best home furnishing values, selection and service, and earning the loyalty and trust of its customers every day.
Ashley HomeStore is committed to being your trusted partner and style leader for the home. This commitment has made Ashley HomeStore the No. 1 furniture retailer in the U.S. and one of the world's best-selling furniture store brands with more than 700 locations in 36 countries.
Start designing your dream home today. Visit Ashley Homestore Opens in a new window, "Like" Ashley HomeStore on Facebook Opens in a new window, follow us on Twitter Opens in a new window and Instagram Opens in a new window, or see our design-focused boards on Pinterest Opens in a new window.
About Hope to Dream
Ashley Furniture HomeStore believes that every child deserves a good night's sleep. Founded in 2010 on that guiding principle, Ashley HomeStore's "Hope to Dream" program provides mattress sets to less fortunate children across the U.S. A portion of the proceeds for every mattress purchased at a participating Ashley Furniture HomeStore helps pay for a mattress set for a child in need. Since its inception, more than 50,000 children have received a brand new mattress set. Those wishing to nominate a child can visit A Hope to Dream Opens in a new window or request an electronic application by emailing AHopeToDream@ashleyfurniture.com. In-store applications are also available at participating locations.
About the Gwinnett Braves
The Gwinnett Braves are the Triple-A International League affiliate of the Atlanta Braves. Follow the G-Braves at GwinnettBraves.com Opens in a new window, Facebook Opens in a new window, and Twitter Opens in a new window. Tickets are on sale now at the Coolray Field Ticket Office, call 678-277-0340 or visit GwinnettBraves.com/tickets Opens in a new window.