Ashley for the Arts Celebrates Another Record Breaking Year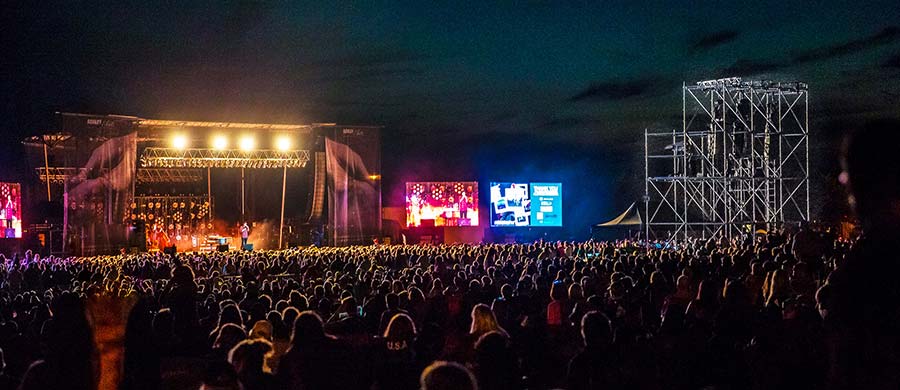 ARCADIA, Wis. – Ashley for the Arts, one of Wisconsin's largest charity events, hosted more than 50,000 visitors at the three-day music and art festival in Arcadia's Memorial Park August 10th, 11th and 12th. The event, in its ninth year, saw an increase in upwards of 20,000 visitors in attendance over last year. With this increased growth and popularity, Ashley for the Arts raised over $425,000 for more than 40 participating school districts and non-profit organizations over the weekend.
Thursday, August 10th began with the annual Pursuit of a Cure 5K (and Miracle Mile) Run-Walk. Pursuit of a Cure is a fundraiser to advance medical research and help offset the medical-related costs that patients incur. Each of the 200 plus participants were able to select the charitable organization that 100% of their registration funds went towards. More than $20,000 was raised throughout the weekend benefiting the American Cancer Society, Rita Tranberg Memorial, O.L.P.H. Mission, and the Arcadia Ambulance Service.
On Friday, with hot air balloons launching in front of a picturesque setting, fans arrived by the thousands to attend this one-of-a-kind charity event. Over 100 art and craft vendors lined the north side of Memorial Park Drive displaying their unique pieces of art. Stilt walkers, an interactive drum circle, two air parks, circus acts and more captured the crowds' attention. Four of the 23 supported school districts, Arcadia, Aquinas, Galesville-Ettrick-Trempealeau and Hope Lutheran, performed on the iconic Amphitheater Stage to kick off the night's musical entertainment. On the Main Stage, headlining entertainers Three Dog Night and Kip Moore delivered incredible performances to over 20,000 people followed by Echosmith rocking the Amphitheater to end the night's festivities.
The third and final day of Ashley for the Arts opened with the Cruisin' for the Arts car show showcasing classic and contemporary models for visitors to observe. Nine additional supported school districts lead the music entertainment on the Amphitheater stage. Independence, Eleva and Whitehall's Music Departments, Cotter Marching Band, Blair-Taylor Elementary, Cochrane-Fountain City Jazz Combo, Osseo-Fairchild's Danger Tones, the Arcadia Accidentals and the Black River Falls Tintinnabulators showcased their extraordinary talents.
As Saturday progressed, more than 30,000 people gathered to see headlining performances which kicked off with Neal McCoy. In between the Main Stage Acts, Galesville-Ettrick-Trempealeau's Vocal Point took the Main Stage to showcase the area school talent by performing three songs from their International Championship High School A Cappella performance in New York City. The crowd roared as special guest Donald Driver, former Wide Receiver of the Green Bay Packers, took the stage as part of his Thank You Fans Tour, to introduce Gavin DeGraw who put on a memorizing show. A grand fireworks display immediately followed, lighting up the night sky and setting the tone for the final performances of the night. Montgomery Gentry packed the Amphitheater with their numerous hits and patriotic ballads and NEEDTOBREATHE rounded out the evening on the Main Stage where they paired up with Gavin DeGraw on their last song to perform their duo, "Brother."
A few main factors led to the success of this record-breaking year. Through host sponsor Ashley Furniture Industries, and numerous community and corporate sponsorships, Ashley for the Arts remains able to provide affordable access to the arts with the low admission cost of $10 for the entire weekend. In addition, it took over 2,800 volunteers to put on this one-of-a-kind non-profit event.
Ashley for the Arts continues to add to its popularity as one of Wisconsin's largest charity events and a world-class music and art fest destination. Planning for the festival's 10th anniversary next year is already underway!
---
Ashley for the Arts is a non-profit initiative that provides the entire family with world class entertainment, art, exercise and play for a remarkably low cost. It is also one of Wisconsin's largest charity events, raising more than $425,000 in 2017, for more than 40 non-profit organizations; including participating schools, children's charities, medical research and financial support organizations for cancer patients who are having trouble paying for their treatments. The event was conceptualized and established by Ashley Furniture Industries, Inc. (Ashley) in 2009. Today, more than 50,000 visitors attend the event held in Arcadia, Wisconsin's Memorial Park. For more information on Ashley for the Arts, visit Ashley for the Arts' website Opens in a new window. "Like" Ashley for the Arts on Facebook Opens in a new window or follow us on Twitter Opens in a new window at @AshleyfortheArt.