Ron Wanek Receives National Speakers Association Philanthropy Award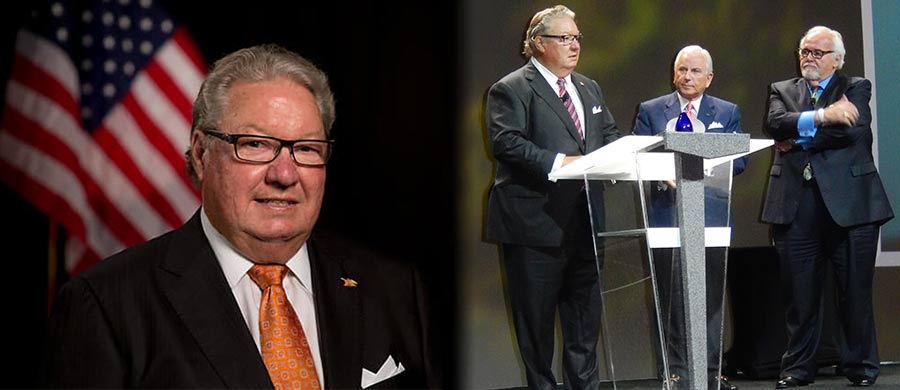 Tampa, Fla. – On Sunday, July 9, the National Speakers Association (NSA) held their annual Awards Banquet in Orlando, Florida. In front of an audience of hundreds of nationally recognized speakers, Dr. Ronald G. Wanek, Founder and Chairman of Ashley Furniture Industries, Inc. (Ashley), received the Nido R. Qubein Philanthropist of the Year Award.
This award honors individuals who have made a significant contribution by being examples of philanthropy and stewardship. Its purpose is to acknowledge those individuals inside and outside of NSA who demonstrate the power of giving for the sake of giving, with no expectation of receiving in return.
Dr. Nido Qubein, President of High Point University, spoke on the criteria of the award, his personal friendship with Ron, and the numerous philanthropic initiatives he has established.
The Philanthropist of the Year Award recognizes Ron for his generosity, a man who knows no boundaries, living his life by the guiding principle that a rising tide raises all boats, said Dr. Nido Qubein. Throughout his endeavors, Ron has worked tirelessly and has given generously to a multitude of his favorite causes.
Through Ron's humble beginnings, growing up on a farm near Utica, Minnesota, he instilled strong values from his parents for hard work and determination. As a young man, Ron's enthusiasm for furniture was inspired by his grandfather and great uncle who built furniture as a hobby. It was this passion for manufacturing that lead Ron to build what is known today as Ashley Furniture - the world's largest furniture manufacturer and the largest furniture retailer in North America.
Being selected as the 2017 Philanthropist of the Year recipient is a humbling moment for myself and my family. I am truly honored to receive such a prestigious award, said Ron Wanek.
In 1998, Ron and his wife, Joyce, started the Ronald & Joyce Wanek Foundation making personal gifts of tens of millions of dollars to a multitude of organizations in the area of: the furniture industry, education, helping children in need, the arts, honoring our Veterans, and medical research - with a focus on finding cures to some of our most horrendous diseases. Most recently, the Wanek family created a $50 million cornerstone foundation grant to The City of Hope to find a cure for type 1 diabetes. Additional grants for medical research include tens of millions of dollars to The Mayo Clinic Heart Research Program, St. Jude's Children's Research Hospital, and other medical research organizations across the country.
Education is another family priority, particularly in supporting educational programs in science, technology, engineering and math (STEM). Additionally, the Wanek family has also provided millions of dollars in funds and in kind services to assist local schools and universities, and more than 1,000 scholarships during the past ten years to help offset the escalating costs of higher education. Each year, Ashley awards over 100 scholarships to children of Ashley Furniture employees.
---
Ashley Furniture Industries, Inc. (Ashley) feels that every person deserves more value for their money. Established in 1945, Ashley is one of the largest manufacturers of home furnishings in the world. From design through fulfillment, Ashley is committed to delivering the world's best home furnishing values, selection and service, and earning the loyalty and trust of its customers every day.