Ashley for the Arts Becomes Chart-Topping Music and Art Fest by Maintaining Low Ten Dollar Admission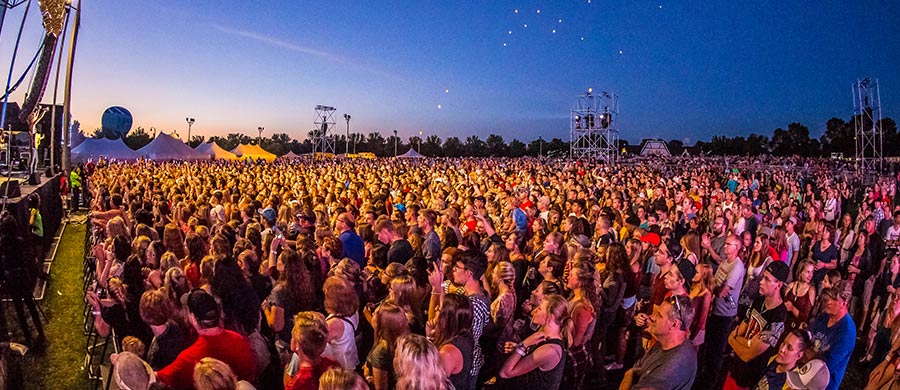 ARCADIA, Wis. – The month of August typically marks the end of summer, but that's not the case in Arcadia, WI. Summer is just starting to heat up with another highly anticipated and electric Ashley for the Arts weekend, , and . The non-profit event is stacked with an all-star lineup of musical entertainment as well as countless family-friendly activities for people of every age.
Once considered a best-kept secret in the Midwest, Ashley for the Arts has quickly attained a raving fan base that has grown from 300 attendees in 2009, to more than 30,000 in 2016. Held in Arcadia, population 2,925, the three-day art and music fest maintains its low $10 admission Opens in a new window cost. After shattering its attendance record in 2016, Ashley for the Arts, one of Wisconsin's largest charity events, is preparing for another great year.
Ashley for the Arts' headline entertainment will include Kip Moore Opens in a new window, armed with a high-energy live show including his hit, "Somethin' 'Bout a Truck"; Gavin DeGraw Opens in a new window, multi-platinum selling singer, performer and songwriter; Montgomery Gentry Opens in a new window, with a unique blend of country and southern rock; Echosmith Opens in a new window, with Triple Platinum Single, "Cool Kids" and Platinum Single, "Bright"; Neal McCoy Opens in a new window, with 34 singles released on country radio, including, "Wink" and "No Doubt About It"; NEEDTOBREATHE Opens in a new window, Grammy-nominated rock band hailing from South Carolina; and Three Dog Night Opens in a new window, dominating the charts for years with their eclectic taste.
The three-day event will also feature stand-out musical performances by Johnny Rogers, The Mondays, Johnny Holm Band, The Memories, Big River Radio Wave, Jackson Michelson, Double Take, Walker County, Los Amos, and Hope Country. In addition, 15 area schools will participate in the event's activities and demonstrate the region's student talent through performances on Friday and Saturday.
With something for everyone, you will also find a wide variety of family-friendly, off-stage entertainment including a living statue, Oh No the Miltown Clown, Fantastic Fire Dancers, MKE Flyers Acrobatic Tumbling Group, Tulga: Strong Man Juggler, stilt walkers, Pinkerton Xyloma Magician, and many more that will entertain audiences throughout the grounds.
The venue Opens in a new window is perhaps the most awe-inspiring aspect of Ashley for the Arts. The 54-acre Memorial Park serves as the backdrop for the event. It includes open green spaces, a beautiful outdoor amphitheater, and features Soldiers Walk, one of the premier war memorials in the U.S. outside of Washington, D.C. Walkways subtly direct pedestrian traffic throughout the park that features art and craft vendors, a classic car show, hot air balloon launches, two air parks (including bouncy houses and obstacle courses), and a kids jungle gym and playground area. Ashley for the Arts also hosts the Pursuit of a Cure 5K run/walk event, a kid's obstacle course, sky lantern launches, and an unforgettable fireworks display on Saturday night. A variety of food trucks and beverage booths will garnish Memorial Park Drive along with the aroma of Arcadia's stapled charcoal chicken grilled to perfection in North America's largest chicken pit. Free parking will be provided along with free bus shuttles to and from nearby areas; including parking lots and the county campground just north of Arcadia.
Nestled in the hills of Western Wisconsin, you will not want to miss this one-of-a-kind event at Memorial Park, August 10, 11, and 12, in Arcadia, WI.
---
Ashley for the Arts is a non-profit initiative that provides the entire family with world class entertainment, art, exercise and play for a remarkably low cost. It is also one of Wisconsin's largest charity events, raising more than $300,000 annually for more than 30 non-profit organizations, including participating schools, children's charities, medical research and financial support organizations for cancer patients who are having trouble paying for their treatments. The event was conceptualized and established by Ashley Furniture Industries, Inc. (Ashley) in 2009. Today, more than 30,000 people attend the event held in Arcadia, Wisconsin's Memorial Park. For more information on Ashley for the Arts Opens in a new window, visit www.ashleyforthearts.com. "Like Opens in a new window" Ashley for the Arts on Facebook or follow us on Twitter Opens in a new window at @AshleyfortheArt.
Ashley Furniture Industries, Inc. (Ashley) feels that every person deserves more value for their money. Established in 1945, Ashley is one of the largest manufacturers of home furnishings in the world. From design through fulfillment, Ashley is committed to delivering the world's best home furnishing values, selection and service, and earning the loyalty and trust of its customers every day.