Ashley Furniture Industries Breaks Ground on 465,000 sq. ft. Facility Expansion in Leesport, PA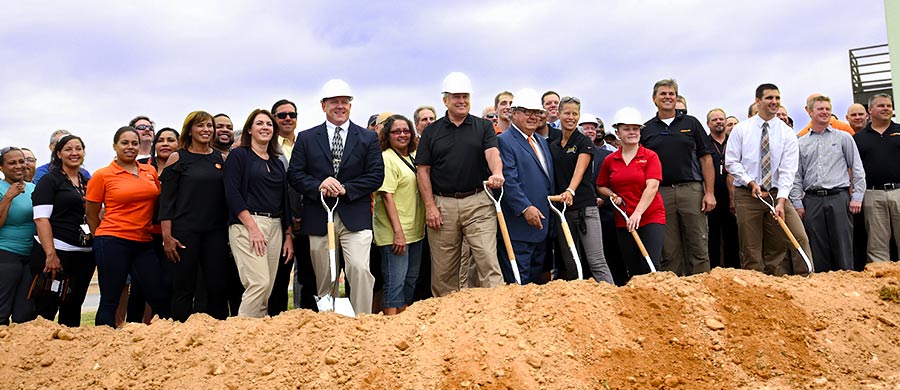 LEESPORT, PA – Another monumental moment occurred for Ashley Furniture Industries, Inc. (Ashley) today as the company breaks ground on a 465,000 square foot E-Commerce Fulfillment and Distribution Center. The addition to Ashley's facility in Pennsylvania will now total to 1.7 million square feet. Federal, State, and Local officials along with community leaders joined company executives at the ground breaking site for Ashley's first expansion in Pennsylvania since their presence in 2004.
As the trend for online shopping only continues to grow, this local addition for Ashley Furniture will benefit our neighbors and friends by creating jobs and providing an economic boost for our area rather than somewhere far away, said Representative Barry Jozwiak. As the company becomes more efficient and delivers on-time with greater frequency, we will benefit from the growth, as well.
To enhance Ashley's ability to fulfill E-Commerce orders, which is an emerging demand, the addition will allow Ashley a better "speed to market" approach by storing more furniture on-site to better serve the regions customers. The E-Commerce Fulfillment and Distribution Center is expected to be completed by February 2018.
This investment in our company today serves as an example to our commitment to customers across the globe, said Todd Wanek, President and CEO of Ashley Furniture Industries. As the demand for faster deliveries of product is becoming more frequent in today's market, this expansion allows our company to have additional space to service our customer base in a timelier fashion.
Since 2004, Ashley Furniture's manufacturing workforce in Leesport has grown over 1,300 employees in the state of Pennsylvania. Today's announcement reflects continued growth for Ashley Furniture to better serve the region and our global customers.
---
Ashley Furniture Industries, Inc. (Ashley) feels that every person deserves more value for their money. Established in 1945, Ashley is one of the largest manufacturers of home furnishings in the world. From design through fulfillment, Ashley is committed to delivering the world's best home furnishing values, selection and service, and earning the loyalty and trust of its customers every day.
Ashley HomeStore is committed to being your trusted partner and style leader for the home. This commitment has made Ashley HomeStore the No. 1 furniture retailer in the U.S. and one of the world's best-selling furniture store brands with more than 700 locations in 36 countries.
Start designing your dream home today. Visit Ashley HomeStore Opens in a new window online, "Like" Ashley HomeStore on Facebook Opens in a new window, follow us on Twitter Opens in a new window and Instagram Opens in a new window, or see our design-focused boards on Pinterest Opens in a new window.