Ashley HomeStore, Clearwater Threshers and Minor League Baseball host Hope to Dream event at Spectrum Field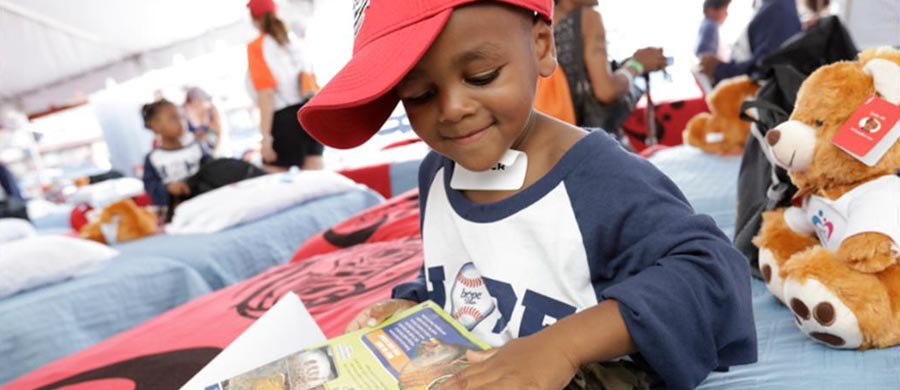 Tampa Bay, Fla. – Ashley HomeStore Opens in a new window, the Clearwater Threshers Opens in a new window, and Minor League Baseball™ Opens in a new window (MiLB™), hosted deserving families from the Tampa Bay area for a Hope to Dream event at Spectrum Field, home of the Clearwater Threshers Minor League Baseball team, on Saturday, June 24. Ashley HomeStore, the largest furniture retailer in the U.S., dedicates a portion of proceeds from every mattress sale at participating locations to its Hope to Dream program, which has donated more than 40,000 new beds and bedding to children in need since 2010.
Upon arriving at Spectrum Field, the children and their families were welcomed by volunteers, and then led to the kids zone in the left field corner of the concourse that houses a playground and special children's concession stand. Shortly thereafter, the guests were escorted to a designated area in right field, where they were presented with a twin mattress, bed frame and bedding, complete with a Threshers and Hope to Dream co-branded pillow and fleece blanket. Threshers players were on hand for the reveal and the team mascot, Phinley, delighted those in attendance as the kids enjoyed a dance party on their new beds.
Following the presentation, attendees enjoyed a variety of traditional ballpark fare, then escorted on the field for the National Anthem. In the third inning, the Threshers honored Ashley HomeStore as its Community Hero of the night. Many families stayed to enjoy the game against the Daytona Tortugas, which was followed by a spectacular fireworks display.
Having called Clearwater home for more than three decades, the Threshers were honored and proud to provide the setting for an Ashley HomeStore Hope to Dream event right here in our community, said John Timberlake, Philadelphia Phillies Director of Florida Operations and General Manager for the Clearwater Threshers. "We hope the night will be one these kids and their families will remember for a lifetime. Thank you to Ashley HomeStore for the work they are doing to better the lives of so many individuals in the Tampa Bay area." Partnering with the Clearwater Threshers gave us an incredible opportunity to create unforgettable memories with these children, said Gene Lunger, EVP of Ashley HomeStore Retail Operations. The environment of this event was generated by combining the importance of a good night's sleep with sports and exercise. It is truly a wonderful pairing, one that hits hard on our beliefs and we are blessed to have been able to provide this opportunity for them.
If you know a deserving child between the ages of 3–16 who needs a new bed, visit A Hope to Dream's website Opens in a new window, then fill out and submit an application, or email Hope To Dream with questions.
---
About the Clearwater Threshers
The Clearwater Threshers are the Class A® Advanced affiliate of the Philadelphia Phillies and a member of the Florida State League. The team plays its games at Spectrum Field. Visit
threshersbaseball.com

Opens in a new window
for more information, "Like" the
Threshers on Facebook

Opens in a new window
and follow
Threshers on Twitter

Opens in a new window
.
About Ashley HomeStore
Ashley Furniture Industries, Inc. (Ashley) feels that every person deserves more value for their money. Established in 1945, Ashley is one of the largest manufacturers of home furnishings in the world. From design through fulfillment, Ashley is committed to delivering the world's best home furnishing values, selection and service, and earning the loyalty and trust of its customers every day.
Ashley HomeStore is committed to being your trusted partner and style leader for the home. This commitment has made Ashley HomeStore the No. 1 furniture retailer in the U.S. and one of the world's best-selling furniture store brands with more than 700 locations in 36 countries.
Start designing your dream home today. Visit Ashley HomeStore Opens in a new window online, "Like" Ashley HomeStore on Facebook Opens in a new window, follow us on Twitter Opens in a new window and Instagram Opens in a new window, or see our design-focused boards on Pinterest Opens in a new window.
About Hope to Dream
Ashley Furniture HomeStore believes that every child deserves a good night's sleep. Founded in 2010 on that guiding principle, Ashley HomeStore's "Hope to Dream" program provides mattress sets to less fortunate children across the U.S. A portion of the proceeds for every mattress purchased at a participating Ashley Furniture HomeStore helps pay for a mattress set for a child in need. Since its inception, more than 40,000 children have received a brand new mattress set. Those wishing to nominate a child can visit Hope To Dream Opens in a new window or request an electronic application by emailing. In-store applications are also available at participating locations.
About Minor League Baseball
Minor League Baseball, headquartered in St. Petersburg, Florida, is the governing body for all professional baseball teams in the United States, Canada and the Dominican Republic that are affiliated with Major League Baseball® clubs through their farm systems. Fans are coming out in unprecedented numbers to this one-of-a-kind experience that can only be found at Minor League Baseball ballparks. In 2016, Minor League Baseball attracted 41.3 million fans to its ballparks to see the future stars of the sport hone their skills. From the electricity in the stands to the excitement on the field, Minor League Baseball has provided affordable family-friendly entertainment to people of all ages since its founding in 1901. For more information, visit the MiLB website Opens in a new window.
Follow Minor League Baseball on Facebook Opens in a new window, Instagram Opens in a new window and Twitter Opens in a new window.