Ashley Furniture Arcadia Facility Breaks Ground on Largest Expansion in History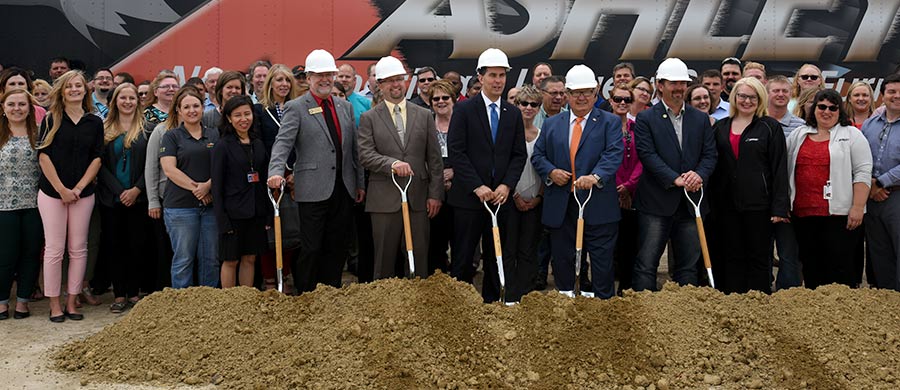 ARCADIA, Wis. – Today marks a historical moment for Ashley Furniture Industries, Inc. (Ashley), as the company breaks ground on the largest expansion for Arcadia's facility since their inception in 1970. Governor Scott Walker joined city officials, community leaders, and company executives at the ground breaking site of the 500,000 sq. ft. addition. The newest expansion will feature an E-Commerce Fulfillment and Distribution Center.
Wisconsin is working, Governor Walker said. Our unemployment rate has dropped to 3.1 percent – down again from last month and the lowest it's been since 1999. And Ashley Furniture recognizes that this is a great time to invest in Wisconsin. Their expansion project here in Arcadia is a win-win, allowing Ashley to better serve their customers throughout the state, the nation, and the world, while also investing in and enhancing the local economy.
To enhance Ashley's ability to fulfill E-Commerce orders, which is an emerging demand, the addition will allow Ashley a better "speed to market" approach by storing more furniture on-site to better serve the regions customers. The E-Commerce Fulfillment and Distribution Center is expected to be completed by February 2018.
Ashley's commitment to meeting the needs of our customers comes in many forms, said Todd Wanek, President and CEO of Ashley Furniture Industries. Our latest investment involving this 500,000 sq. ft. expansion is a prime example of reinvesting in the future of our Wisconsin facilities. The expansion will allow processes to expand, improve capital asset utilization and allow for additional space to service our customer base in a timelier fashion.
Over the past 47 years, Ashley Furniture's manufacturing workforce in Arcadia has grown to nearly 5,000 employees in the state of Wisconsin. Today's announcement reflects continued growth for Ashley Furniture to better serve the region and our global customers.
---
Ashley Furniture Industries, Inc. (Ashley) feels that every person deserves more value for their money. Established in 1945, Ashley is one of the largest manufacturers of home furnishings in the world. From design through fulfillment, Ashley is committed to delivering the world's best home furnishing values, selection and service, and earning the loyalty and trust of its customers every day.
Ashley HomeStore is committed to being your trusted partner and style leader for the home. This commitment has made Ashley HomeStore the No. 1 furniture retailer in the U.S. and one of the world's best-selling furniture store brands with more than 700 locations in 36 countries.
Start designing your dream home today. Visit Ashley HomeStore Opens in a new window online, "Like" Ashley HomeStore on Facebook Opens in a new window, follow us on Twitter Opens in a new window and Instagram Opens in a new window, or see our design-focused boards on Pinterest Opens in a new window.