Ashley Furniture Industries Honored Memorial Day with a Flag Raising Ceremony Nationwide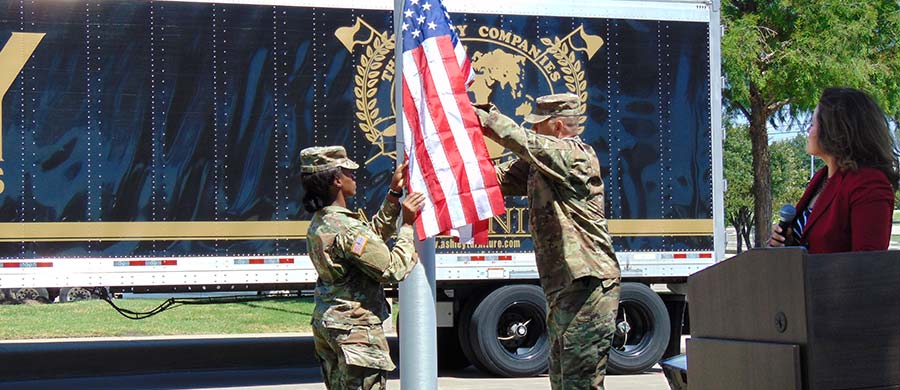 ARCADIA, Wis. — Ashley Furniture Industries honored Memorial Day by holding a flag raising ceremony at each of their manufacturing facilities in the U.S. on Wednesday, May 24th. Ashley executives from California, Florida, Mississippi, North Carolina, Pennsylvania, Texas and Wisconsin, along with members of their local military groups, provided the ceremony to remember those who served our country to reflect on the true meaning of Memorial Day for Ashley employees and guests.
While only one day of the year is dedicated to honoring our veterans, we must never forget the sacrifices many have made to defend our country and protect our freedom, said Bert Cartrette, Senior Director of Ashley Furniture Distribution Center. I am truly honored to be a part of Ashley Furniture's patriotic observances.
The staff in Verona, Mississippi would like to honor those veterans who have given us the opportunity to manufacture our product right here in the U.S, said David "Scott" Weatherly, Lean Six Sigma Advisor.
Following the flag raising ceremony, a moment of silence was held to honor the brave men and women who have died throughout history, while serving in the U.S. military.
On Monday, people throughout the country will gather together to remember, to honor, and to pay gratitude to those who have paid the ultimate price in service to their country, said Todd Wanek, President and CEO of Ashley Furniture Industries. Ashley's gathering was just one small way we can honor and recognize those brave individuals locally.
Ashley Furniture would like to wish everyone a safe Memorial Day weekend.
---
Ashley Furniture Industries, Inc. (Ashley) feels that every person deserves more value for their money. Established in 1945, Ashley is one of the largest manufacturers of home furnishings in the world. From design through fulfillment, Ashley is committed to delivering the world's best home furnishing values, selection and service, and earning the loyalty and trust of its customers every day.
Ashley HomeStore is committed to being your trusted partner and style leader for the home. This commitment has made Ashley HomeStore the No. 1 furniture retailer in the U.S. and one of the world's best-selling furniture store brands with more than 700 locations in 36 countries.
Start designing your dream home today. Visit Ashley HomeStore Opens in a new window online, "Like" Ashley HomeStore on Facebook Opens in a new window, follow us on Twitter Opens in a new window and Instagram Opens in a new window, or see our design-focused boards on Pinterest Opens in a new window.