Ashley for the Arts Partners with Davie County's Arts Smart Festival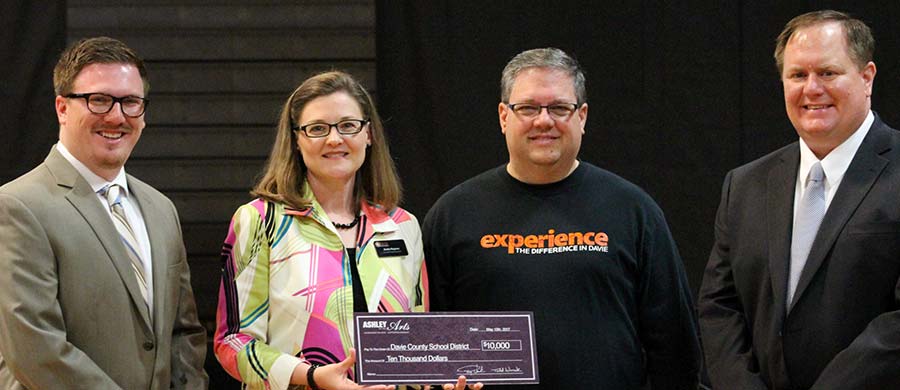 MOCKSVILLE, N.C. — Davie County Schools partnered once more with Ashley for the Arts for the annual Arts Smart Festival held at Davie County High School on May 13th. Representatives from Ashley Furniture Industries (Ashley) presented Davie County Schools Superintendent, Darrin Hartness, and Assistant Superintendent, Jinda Haynes, with a $10,000 donation for the School District.
The Art Smart Festival featured student artists, singers, dancers, musicians and actors from all the Davie County Schools Arts Education Departments. Simultaneous performances were scheduled throughout the afternoon in the large and small gyms, and additional attached classrooms.
In addition to the check presentation, Ashley representatives presented the annual Ashley for the Arts 'Humanitarian Award' which was conceptualized to honor the individuals who go above and beyond helping make their school and community a better place. These people are true role models with an infectious attitude that makes those they touch feel better and inspires them to become better human beings. This year, Eddie Greene was presented with this prestigious award. Below is the Selection Committee's write-up for Eddie's Humanitarian Award:
"Eddie Greene is a WAN Engineer within the Technology Department of Davie County Schools. However, his title does not tell the whole story!

Eddie's work ethic is unmatched. He works early mornings, late nights, and weekends to keep technology working in classrooms across the school district. He pays attention to every detail as he works on projects and new construction, and his wiring closets are a high-tech piece of artwork!

While he goes above and beyond in his IT role, his dedication to supporting the students and staff in the arts is remarkable. He spends countless hours and invests his own personal funds for materials and equipment to design and provide the best sound, lighting, and technical support possible for school productions. With gigantic black curtains, pipes, chains, screens, and technology equipment, he turns the high school gymnasium into a performance space for the Art Smart Festival. He dedicates the same time and attention to support middle school theatre productions. He is always "behind the scenes" to support arts education, but he wants the spotlight to be on the children and their instructors rather than seeking any recognition himself."
Ashley for the Arts is a non-profit, family-friendly initiative that provides communities with affordable access to world class art, music and entertainment while supporting a wide range of nonprofits. Conceptualized by Ashley Furniture Industries in 2009, Ashley for the Arts events are now located in Florida, North Carolina, and Wisconsin.
---
Ashley Furniture Industries, Inc. (Ashley) feels that every person deserves more value for their money. Established in 1945, Ashley is one of the largest manufacturers of home furnishings in the world. From design through fulfillment, Ashley is committed to delivering the world's best home furnishing values, selection and service, and earning the loyalty and trust of its customers every day.
Ashley HomeStore is committed to being your trusted partner and style leader for the home. This commitment has made Ashley HomeStore the No. 1 furniture retailer in the U.S. and one of the world's best-selling furniture store brands with more than 700 locations in 36 countries.
Start designing your dream home today. Visit Ashley HomeStore Opens in a new window online, "Like" Ashley HomeStore on Facebook Opens in a new window, follow us on Twitter Opens in a new window and Instagram Opens in a new window, or see our design-focused boards on Pinterest Opens in a new window.