5th STEP Ahead Awards Recognize Women for Excellence in Manufacturing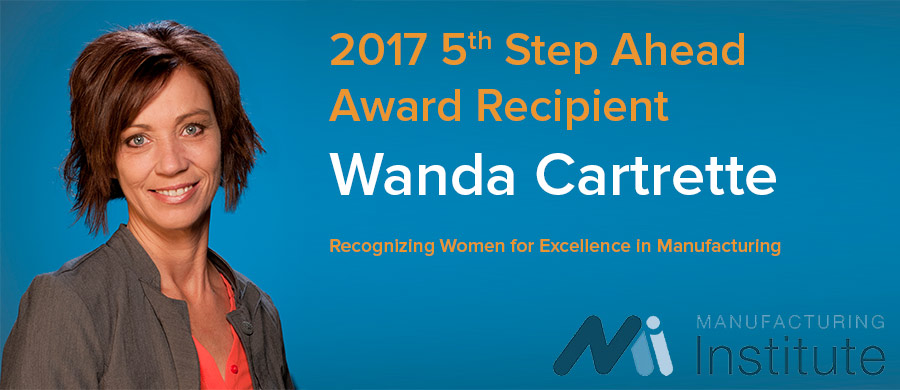 ARCADIA, Wis. – The Manufacturing Institute will present Wanda Cartrette of Ashley Furniture Industries, Inc. with the Women in Manufacturing STEP (science, technology, engineering and production) Ahead Award on Thursday, April 20th in Washington D.C. The STEP Ahead Awards honors women who have demonstrated excellence and leadership in their careers and represent all levels of the manufacturing industry.
Wanda started at Ashley Furniture in April 1991 as an assembly line worker building nightstands. Her passion for manufacturing and process improvement has led to her current role - as the Wisconsin Upholstery Lean Six Sigma Manager and Corporate Idea Network Manager for all US facilities.
I am very proud of Wanda Cartrette for receiving this prestigious award, said Todd Wanek, President and CEO of Ashley Furniture Industries, Inc. Throughout the years, Wanda has played an integral role in the overall success of our business by improving operational processes to reduce the overall cost for our Ashley customers.
"These women exemplify the path an exciting career in manufacturing can take," said Heidi Alderman, 2017 Chair of STEP Ahead and Senior Vice President of Intermediates North America, BASF Corporation. "STEP Ahead recognizes women nationwide for their significant achievements to the field of manufacturing, and the positive impact on their companies and the industry as a whole."
The STEP Ahead Awards are part of the larger STEP Ahead initiative, launched to examine and promote the role of women in the manufacturing industry through recognition, research, and leadership for attracting, advancing, and retaining strong female talent.
The Manufacturing Institute will recognize 130 recipients of the STEP Ahead Awards on April 20, at a reception in Washington, D.C. The STEP Ahead Awards program will highlight each honoree's story, including their leadership and accomplishments in manufacturing.