Ashley for the Arts Announces Humanitarian Award Recipients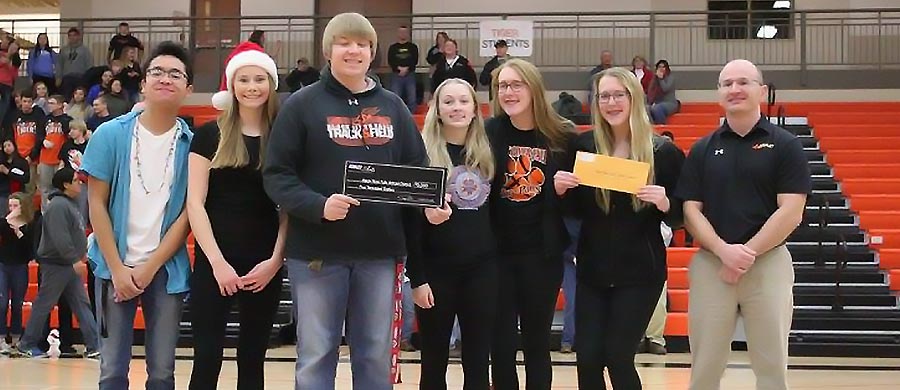 ARCADIA, Wis. – Every town has those special individuals who go above and beyond to make their school and community a better place. For this sole purpose, Ashley for the Arts created the Humanitarian Award to provide recognition for these individuals and their noble contributions that have helped build great communities. Throughout the past few months, representatives from Ashley for the Arts presented the Humanitarian Awards to each of the recipients at a sporting event at their respective school. In addition to the Humanitarian Award presentation, a check presentation was held at the event to make a donation to each school for providing volunteers to help with the operations of Ashley for the Arts.
The 2016 honorable individuals awarded the Ashley for the Arts Humanitarian Award consist of Larry & Lois Balk, Dave & Jean Durni, Kim Severson, Larry & Ann Lunda and Rich & Marlee Slifka, James Huffman, Sister Judith Schaefer, Kris Husby, Carol Howard, Barb Slaby, Dan Anderson, Jane Matchey, Connie & LeRoy Craig, Kathy Blaken, Kay Ciechanowski, Rita Rindahl, Julie Arentz, Dave Henrickson, and Bill Jacobs. Below is a brief write-up of their contributions towards humanity.
Larry & Lois Balk (Alma)
Community service and programs to enhance the public well-being are crucial to the survival of small communities. People who devote their lives to improving the lives of those in a community are indeed the life-blood of these communities. Larry and Lois Balk have served the Alma community in that capacity all of their adult lives.
Larry Balk served the Buffalo County Land Conservation service as a technician for over 30 years. During those years, he found the time to be actively involved as a volunteer in the Lions Club (having served as a District Governor and local officer), his church, youth groups at the Alma Area Schools, beautification programs in the City of Alma, a promoter of the "arts" in the community, and many years as an elected County Board Member from the City of Alma.
Lois Balk served as a teacher, elementary principal, curriculum coordinator, Title 1 coordinator, and Alcohol and Other Drug Coordinator. Lois founded many programs including the first "after-prom lock-in party", which is in its 34th consecutive year. This and other programs which both Lois and Larry were deeply involved in were recognized on a state and national level during her years as elementary principal. The Alma Schools were recognized for two consecutive years as a "Family Friendly School." The peer-based Alma YADFA Group (Youth Alliance for a Drug Free Alma) is an organization of junior and
senior high school students who pledged to remain drug and alcohol free and promoted this lifestyle to others. Because of their success, these programs received both state and national honors, for which Lois was recognized for her work at a White House reception, hosted by President Clinton. Lois also received the 1999 WASDA (Wisconsin Association of School Administrators) Bert Grover Child Advocacy Award for her efforts to improve the lives of children in her community and across the state. Lois would be the first to recognize Larry for his support and work with her on these awarded programs. After her retirement from the school, Lois served on the Alma City Council and was elected Mayor.
Dave & Jean Durni (Alma Center-Humbird-Merrillan Lincoln)
Dave and Jean Durni were both long-time teachers in our district and retired a few years ago. Since that time, both Dave and Jean have been very active in our schools and our community. Jean regularly fills in and helps out in both our elementary school and our junior/senior high school. Both of them are always ready and willing to help out with any tasks that need attention and to be taken care of. In the community, Dave and Jean are active in helping out various organizations. They both spend an inordinate amount of time working to get our local festival organized. They are in charge of food preparation and do an amazing job of getting everything ready. Dave also volunteers as a Hunter Safety Instructor and every spring offers a class to the students of our district. They are both caring and giving individuals that take pride in the schools they previously served as well as the community in which they live.
Kim Severson (Arcadia)
The Arcadia School District would like to recognize one of their teachers who truly continues to strive to inspire her students. Kim Severson began her teaching career in Arcadia in January of 2013 where she currently teaches English as a second language and also coaches high school gymnastics.
Prior to teaching in Arcadia, Kim volunteered as an English teacher through the U.S. Peace Corps. She taught 6th-8th grade English in a rural village in Namibia from 2010 to 2012. During her time in Namibia, she began a school library with book donations and also received great support from her home church that helped raise money to purchase teaching supplies for the students.
Kim has also been an instrumental leader that developed a school and community service organization called the Wolf Pack in Arcadia, WI. The Wolf Pack was established in September of 2013 to provide students with the opportunity to learn the importance of volunteerism to help enhance the community that they live in. The city of Arcadia has shown great support for this organization by providing them with the financial backing to start this organization and has generously donated to the group's Ronald McDonald House trip each year. The past few years the Wolf Pack has participated in many activities that include: collecting paper recycling, serving food at Arcadia Elementary Love & Logic presentations, cleaning the Arcadia Food Pantry, cooking dinner for children and families who stay at the Ronald McDonald House and baked and distributed holiday cookies to elderly, homebound and disabled residents of Arcadia.
Arcadia is proud to have Kim Severson as a member of their community and teaching staff as she is very deserving of the Humanitarian Award.
Larry & Ann Lunda and Rich & Marlee Slifka (Black River Falls)
One only needs to drive through Black River Falls to recognize the incredible gifts the community has received from the Lunda family. It began with Milt and Lydia Lunda and their community outreach and generosity. Their children have made the same commitment to ensuring the residents of Black River Falls have premiere facilities to gather, compete in, and enjoy. Most recently, the Lunda children, Larry, married to Ann, and Marlee, married to Rich Slifka, have built the beautiful Lunda Community Center.
This facility opened in April of 2016 and has quickly become a hotbed of activity. The Center provides a home for the Jackson County Boys & Girls Club, a facility called "The Hub" that serves as a Senior Center, as well as a Field House for the School District of Black River Falls students and athletes to utilize as the new Tiger stadium. While these three areas of the building are specifically designed for the groups named, the rest of the building is a welcoming beacon to anyone in the area that would like to enjoy it. There is an indoor water park, gymnasium, workout facility, fitness classes, golf simulator and rock climbing wall just to name a few. This gathering spot has provided a home for so many programs that previously struggled to exist due to the lack of a quality facility. Words seem trite when trying to express the heartfelt gratitude the district and community have for the Lunda family.
James Huffman (Cochrane-Fountain City)
Since taking over the IT department at Cochrane-Fountain City, James Huffman has been a huge supporter of our students and school. His pursuits beyond his day job began as an assistant director to our drama productions, eventually taking on the role of director and making his grand visions of what theater could be a reality in our school. He sees the talents and the possibilities of our students and helps them to believe in themselves. In addition to all this, he has been a coach for both the junior high and senior high track teams.
He is always available at a moment's notice to provide assistance to anyone in the building not only in the capacity of an IT expert, but also with anything related to sound, lights, video recording and the like. If you ask, he will make it happen, no matter what it takes. "No," is just not a word in his vocabulary and he does it all with a joyful heart and a smile on his face. He spends his nights and weekends as a drama director, a DJ for many school events, and a coach. C-FC is very proud to recognize James Huffman for the Ashley for the Arts Humanitarian Award.
Sr. Judith Schaefer (Cotter Schools – Winona)
Sister Judy Schaefer, O.P., Ph.D., began service as President of Cotter Schools in July, 2012. Sister Judy is a professed member of the Sinsinawa Dominican Congregation, with its Motherhouse in Sinsinawa, Wisconsin. She came to Cotter Schools from Saint Mary's University of Minnesota, having served as Professor and Chair of Theology, and, as University Dean for University Affairs. She completed her doctoral work at Marquette University in Milwaukee, WI, in Theology and Society, with an allied discipline in psychology.
Sr. Judy is a tireless advocate for all students who come to Cotter Schools. She is personally invested in the mission of Cotter Schools – challenging every student to develop their full potential academically, physically, spiritually, and socially. As the leader of Cotter Schools, she provides vision and direction for growth and works tirelessly to include many voices in the decision making process. Sr. Judy is someone
who builds others up and empowers them to use their gifts to their fullest. She is a wonderful supporter of the academics, athletics, and the arts.
Kris Husby (Eleva-Strum)
Kris Husby's professional title is Office Manager in charge of Customer Relations/Consumer Standards at our local Tri County Telephone Company Office. She carries the ethics, standards of quality, and open heart and mind into her volunteerism with the above organization.
Kris was a part of the leadership team that formed the Eleva-Strum Community Support Network (ESCSN) in 2013. She raised her hand in support of the ideals of that organization and immediately took charge of the "business" and promotional support of this fledgling organization. Originally, the organization was formed to provide meals for food children in need during the weekends of the school year; commonly known as a Backpack Program where designated children are discretely distributed meals on Friday afternoon.
As the organization grew, the need for food for students in the summer was noted. For the past three years, Kris has personally packed meals and distributed them to the local churches for children in need during those months. At our annual meeting in June of 2016, it was noted that some food resource services were needed for high school youth who were unable to access local food pantries. Kris volunteered her personal cellphone number to guidance counselors and she will discretely provide food deliveries to the counselors' offices as the need arises during the upcoming school year. Kris has also been the one to volunteer to cook and service many dinners that provide support and fundraising efforts for a local church. She undertakes each effort in her charge with grace and efficiency.
Carol Howard (Galesville-Ettrick-Trempealeau)
The Gale–Ettrick-Trempealeau School District would like to select Carol Howard as our Humanitarian Award Winner. Carol is a retired teacher with an outstanding career in education. Since retiring Carol has been very involved with the Trempealeau County Humane Society and is currently the president of their board. She is also very active with the Coulee Region Humane Society's Pet Therapy program and has been working with her dogs helping others for over the last 10 years. Carol and her dogs are also involved in a reading program, Read to Rover, that helps promote reading to children. She has been an active member of Galesville's Public Library by being involved with the Friends of the Library program. The Gale-Ettrick-Trempealeau school district would like to thank Carol for all her dedication to making our community a great place to live.
Barb Slaby (Holy Family Catholic School – Arcadia)
Holy Family Catholic School would like to thank Barb Slaby for her dedication and commitment to our students and to the school. Mrs. Slaby has been employed as the school's administrative assistant since 2004. Her bubbling personality and beautiful smile greet all who enter the school. Mrs. Slaby takes any task thrown her way and accepts it graciously. Throughout her 12 years at HFCS, many changes have taken place; new principals, priests, teachers, students, families, and even a new school. Through all of those changes Mrs. Slaby continues to smile and ask how she can help to make the transitions smooth for everyone. HFCS is truly blessed to have Mrs. Slaby at our school. Thank you for all that you do and the many times you have gone above and beyond.
Dan Anderson (Holmen)
Dan Anderson can and will be seen at numerous events that take place at Holmen High School. Dan is highly involved with our Booster Club and he promotes success for students in all areas from academics, music programs, student organizations and athletics. Dan is also willing to spend his time, money and energy on improving the inside and outside of the Holmen High School building.
Additionally, Dan was a key driving force in getting tackle football started for the youth in the School District of Holmen. Dan can also be seen attending numerous meetings in regards to helping to improve our facilities for the future. Dan's volunteerism takes place because as an alumnus of Holmen High School, Dan wants nothing but the best for all Holmen students.
Growing up on his family's dairy farm, Dan has an extremely strong work ethic and he displays this work ethic to his children, friends and the community. Even though Dan continues to work hard on the family dairy farm, which he now owns and manages, Dan continues to give much of his time, energy, and money to the School District of Holmen. We are very proud to say that we have had Dan as a student in high school and now have the privilege to work with him as a highly involved parent.
Jane Matchey (Independence)
Jane Matchey has volunteered in our school since 2002, mostly in the library, but in any capacity that is needed. Prior to that, she was an educator for 33 years with her last teaching position at SSPP School. She is active with SSPP parish and volunteers for the funeral group to prepare and serve lunches and has worked at the Parish festival for over 35 years. She is also a member of the Legion Auxiliary in Independence.
Jane has volunteered faithfully every week, for years in our school library. Her artistic talent and engaging smile help to create a welcoming atmosphere in our school library. Students appreciate the displays that she creates to encourage reading. Staff appreciate the effort and care she takes in shelving and organizing the collection. And our school community genuinely enjoys her smile and sense of humor. As a former elementary teacher, Jane understands the importance of early literacy. Her contribution to our school is a testament to her life-long desire to make a difference in the lives of children.
Although she'll never admit that her contributions aren't anything special, the amount of time and contributions she has made to the Independence School District has been tremendous. You won't find anyone with more integrity and a better work ethic than Jane. She always seems to be available at a moment's notice when we need something. She is a very worthy recipient.
Friends of Melrose (Melrose-Mindoro)
Friends of Melrose began in 1997 when a group of individuals decided to form an organization to provide assistance to the people in the area. All of the money raised from the events that are organized by Friends of Melrose goes towards local organizations and projects that need financial backing. They currently have 20 members with their current officers consisting of Connie Craig, President - LeRoy Craig, Vice President - Kathy Blaken, Treasurer and Kay Ciechanowski, Secretary.
There are a number of great events and projects that the Friends of Melrose provide to their community throughout the year. This past summer, they had a 4th of July celebration that they co-hosted with the Melrose American Legion. Activities that take place are a men's softball tournament, live music, a large parade, fireworks, and concessions through it all. Along with the Legion that sponsors a July 3rd dance and a chickenque, the FFA provides a tractor ride, vendor booths, a tractor rodeo and an ice cream wagon. The 1st Responders Walk/Run and other group activities also took place, so there were plenty of activities to help keep everyone busy in Melrose over the 4th of July holiday.
The fall brings a Halloween party followed by a senior citizens Christmas party where they help organize an event called, "Project Christmas" to round out the calendar year. Friends of Melrose also helps organize many other events such as the Frank Dobbs Youth Wrestling tournament, Melrose-Mindoro Athletic Banquet and a swimming pool fundraiser.
This group of 20 individuals provide a great service to the community of Melrose. This entire group is well deserving of the Humanitarian Award presented by Ashley for the Arts.
Rita Rindahl (Osseo-Fairchild)
Mother Teresa once said, I alone cannot change the world, but I can cast a stone across the waters to create many ripples. Ms. Rita Rindahl from Osseo-Fairchild is a true humanitarian and is most deserving of the 2016 Ashley for the Arts Humanitarian Award.
Everyone knows Rita in our school community because of her kindness, laughter and her never-ending determination to help those in need. When Rita hears that someone is sick, she is one of the first to arrive at the door with food, a smile and lots of love to give. Rita has created so many "ripples" and has changed our school community and the world for the better.
Rita's humanitarian work has been her life's work. Rita has spent countless hours helping with our annual "Toy Drive" for almost 15 years so all local children in need will have gifts for the holidays. She will run back and forth to her car hauling gifts, slipping in the snow, smiling and laughing the entire way.
Rita has helped with our annual Veteran's Day lunch at The Cabin in the Pines for over 15 years. She and her beloved husband and Purple Heart recipient, Mr. Ralph Rindahl, who passed away January 16, 2016, joined forces to make the best chili in the U.S.A. Year after year, we meet on Veteran's Day to support our local heroes, remember the fallen, share war stories with our Osseo-Fairchild Middle School students and to enjoy a great meal together. Again, Rita takes so many trips to her car hauling food, crock pots, chili, and anything else she believes the Veterans and ladies would enjoy. Rita always makes sure the coffee is just right which makes our honored ladies and gentlemen very happy.
Rita has spent a lifetime caring for those who are ill. With her knowledge of health care needs, her compassion for those who are weak and her big heart, Rita helps every person in her care feel loved, feel hope and feel reassured that things will get better.
Thank you, Ms. Rita Rindahl for being so genuine and a true humanitarian!
Julie Arentz (West Salem)
West Salem would like to nominate Mrs. Julie Arentz, who is the West Salem High School guidance counselor, to receive the Humanitarian Award. If something needs to get done or a volunteer is needed for anything, Julie is always the first one to say yes and does so with a "This is going to be fun" attitude. As the West Salem High School guidance counselor, Julie works closely with students, parents, community members, and post-secondary options. Her goal is always to do what is best for our students, the school, and the community.
She is the advisor for the High School Interact Club, which works through our local rotary chapter to do a variety of community service projects. Julie not only goes above and beyond as an employee of the school district, she is a model community member. If there's an event taking place in West Salem, you'll likely see Julie there with a smile on her face. Her work ethic, dedication, and servant leadership approach is a model for us all.
Dave Henrickson (Whitehall)
For the past 31 years, Dave Henrickson has passionately and compassionately served all children in the Whitehall School District. His caring nature and energetic personality plotted a course for students to follow that is second to none. His degree of concern for the well-being of each and every child whether in his teaching or his coaching, made "Henri" an invaluable member of our staff team and a fabulous mentor for the many young people he has served in his career. For these reasons and many others, Dave Henrickson is most worthy of the Ashley for the Arts - Humanitarian Award and we congratulate him on a storied career with the Whitehall School District.
Bill Jacobs (Winona)
Bill has been the Winona Senior High School trainer for 20 plus years and is also a teacher in the district. He is always willing to go above and beyond to help any student, coach and/or teacher. Bill puts in more hours in the district than any other person. He meets with athletes before, during and after school making sure they are healthy enough for athletics. When needed, he will help with making appointments with the correct doctors to make sure his patients are seen in a timely manner and by those that can help the best. Not only will Bill help the athletes, but he does the same for students and teachers as well. Bill also will travel with teams if requested to provide help on road games.
His knowledge base on injuries is quite extensive. Although we may not always understand the medical lingo he uses, we know he is thorough with his consultations. When we host events, teams that do not have trainers will make sure Bill sees them, knowing he will assist their team as well. He even saved a young man's life last fall by diagnosing a young man with an internal injury. By getting him to the hospital when he did, the young man made a full recovery. It is actions like this that make Bill Jacobs a perfect candidate for this award.
---
Ashley for the Arts is a non-profit initiative that provides the entire family with world class entertainment, art, exercise and play for a remarkably low cost. It is also one of Wisconsin's largest charity events, raising more than $300,000 annually for more than 25 non-profit organizations, including participating schools, children's charities, medical research and financial support organizations for cancer patients who are having trouble paying for their treatments. The event was conceptualized and established by Ashley Furniture Industries, Inc. (Ashley) in 2009. Today, more than 30,000 people attend the event held in Arcadia, Wisconsin's Memorial Park. For more information on Ashley for the Arts Opens in a new window, visit www.ashleyforthearts.com. "Like" Ashley for the Arts on Facebook Opens in a new window or follow Ashley for the Arts on Twitter Opens in a new window at @AshleyfortheArt.