Ashley Furniture Donates $25,000 to Eau Claire's Confluence Project'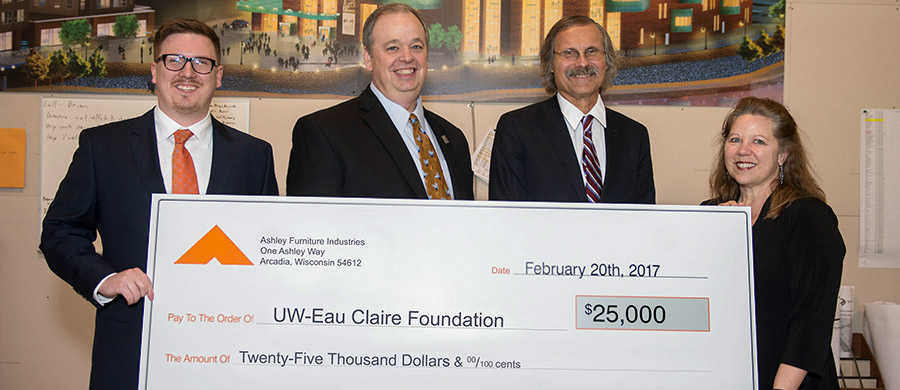 ARCADIA, Wis. – Ashley Furniture Industries (Ashley), presented the Chancellor of the University of Wisconsin-Eau Claire with a check for $25,000 on Monday, February 20th. The donation will be used towards Eau Claire's ongoing Confluence Project.
The Art Center, which is currently under construction, will include a 1,200-seat theatre and a flexible 400-seat theatre; rehearsal, dance and community rooms; visual arts studio and galleries; labs for sound and lighting, set and exhibit design, recording arts, multimedia production and costume design; a scene shop equipped to support the maker space and vocational training initiatives; administrative offices for management, University of Wisconsin-Eau Claire faculty and Visit Eau Claire staff.
It is wonderful to see a project of this magnitude be completed in a community where many of our employees and their families reside stated Ron Wanek, Chairman and Founder of Ashley. We look forward to seeing the positive economic impact the Confluence Project has on the City of Eau Claire as well as the opportunities that will be available to the students of UW-Eau Claire.
Besides furnishing a venue for performing arts activity, the Confluence Arts Center offers the community with a facility capable of providing transformative training, learning, and creative opportunities to grow its local economy.
James Schmidt, Chancellor of University of Wisconsin Eau-Claire, praised Ashley for its recognition of the regional value the Confluence Arts Center. This project will serve the youth, the workforce and the residents of the entire area said Schmidt. With this facility and the many collaborations that it has inspired, the opportunities are limitless.