Ashley Furniture Sponsors Robotics Programs for School Districts in Mississippi and Wisconsin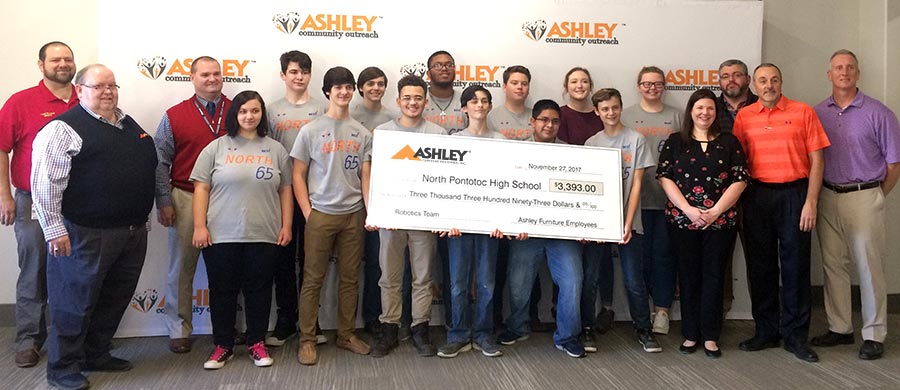 ARCADIA, Wis. – On Saturday, December 2, Ashley Furniture Industries (Ashley) presented a $20,000 check to the 7 Rivers Robotics Coalition. With this financial support, along with volunteer support from Ashley employees, 14 high schools in Western Wisconsin will have the opportunity to participate in FIRST Robotics. This donation is aimed at inspiring young minds in the areas of STEM (science, technology, engineering and mathematics).
Ashley's sponsorship included $10,000 to the Trempealeau County team, "TC Robotics," made up of students from five local schools, to help defer the costs of an upcoming competition, supplies and traveling. Additionally, nine other area school districts also received a $10,000 sponsorship check for each of their FIRST Robotics teams.
Last week, Ashley also awarded the North Pontotoc High School Robotics Team a sponsorship check of $3,393. In September of this year, the team competed against 23 teams from across the state at the MS BEST Robotics Competition. They placed 5th overall, and are one of five teams from the state of Mississippi that qualified to attend the Southern Regional Competition, at Auburn University in Alabama.
FIRST and BEST Robotics are similar programs that encourage students to be leaders in science and technology. In these programs, students learn how to design, build, program and test a robot that will then be used to compete against other schools throughout the state and country. Students are also required to operate the program as if they are running their own business, utilizing skills in marketing, finance and more.
Not only are students learning about the design, programming and building of a robot, they are also building self-confidence, teamwork and leadership skills, said Andy Baker, Automation & Robotics Manager at Ashley Furniture. There are many great career options that can evolve around STEM education.
Additionally, Ashley donated $10,000 worth of VEX Robotics to seven area middle schools in Wisconsin to accompany STEM education programs and build students' interest in these areas. This donation allows the schools to begin a local competition called Greater Western Wisconsin VEX IQ Challenge.
As manufacturing continues to advance, support of educating our current and next generation of leaders has become more crucial. Ashley and the Wanek family have made several contributions in the area of education. In addition to the support of STEM initiatives, millions of dollars in funds and in kind services have been provided to assist local schools and universities, and more than 2,000 scholarships during the past ten years to help offset the escalating costs of higher education.
---
Ashley Furniture Industries, Inc. (Ashley) feels that every person deserves more value for their money. Established in 1945, Ashley is one of the largest manufacturers of home furnishings in the world. From design through fulfillment, Ashley is committed to delivering the world's best home furnishing values, selection and service, and earning the loyalty and trust of its customers every day.
Ashley HomeStore is committed to being your trusted partner and style leader for the home. This commitment has made Ashley HomeStore the No. 1 furniture retailer in the U.S. and one of the world's best-selling furniture store brands with more than 700 locations in 36 countries.
Start designing your dream home today. Visit Ashley HomeStore Opens in a new window online. "Like" Ashley HomeStore on Facebook Opens in a new window, follow us on Twitter Opens in a new window and Instagram Opens in a new window , or see our design-focused boards on Pinterest Opens in a new window.