Ashley Furniture Employees Donate Over $58,000 to Le Bonheur and St. Jude Children's Hospitals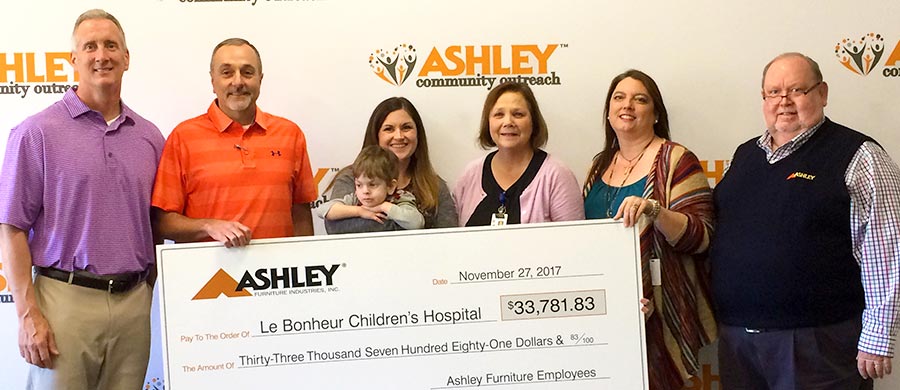 ECRU, Miss. – Employees of Ashley Furniture Industries in Mississippi are pleased to announce a donation of $33,781 to Le Bonheur's Children's Hospital. This donation, made possible through Ashley's "Dollar a Week" program, was raised through employee contributions from Ashley's Ecru, Verona, Ripley, and Saltillo, Mississippi locations to support one of the leading children's hospitals in the United States. This is the twelfth-year Ashley employees have contributed to this great cause, totaling $157,530 to date.
We couldn't do this important life-saving and life-changing work without companies like Ashley Furniture. We consider Ashley Furniture employees part of the Le Bonheur family, said Connie Haygood, Special Events Manager, Le Bonheur. Supporters like you help us offer hope. With your help, we are expanding our nationally recognized programs, finding cures for childhood diseases and reaching children outside hospital walls through our more than 20 community outreach programs.
Along with representation from Le Bonheur Children's Hospital, Joshua Byrd (a patient of Le Bonheur) and his family attended the check presentation. A personalized tour of Ashley's Ecru facilities was provided to the family and Le Bonheur representatives to learn more about where these employees work, and how they manufacture world-class furniture.
Today is another prime example of why I am extremely proud of our employees, said Todd Wanek, President and CEO, Ashley Furniture. It is absolutely extraordinary to see the positive impact they can make on a child's life by doing something as simple as donating one dollar a week. Through their selfless efforts and personal contributions, these donations will make an everlasting impact on the countless families who have been impacted by these organizations.
The "Dollar a Week" program also supports St. Jude Children's Research Hospital. Today, Ashley employees also awarded $25,026 to one of the world's premier pediatric cancer research centers. This money will help pay for children diagnosed with cancer to go through treatment at no cost. Since 2012, Ashley's Mississippi employees have contributed $120,631.
In addition to these employee contributions, Ron Wanek, Founder and Chairman of Ashley Furniture Industries, and his wife Joyce made a personal donation of $5,000 to each organization.
---
Ashley Furniture Industries, Inc. (Ashley) feels that every person deserves more value for their money. Established in 1945, Ashley is one of the largest manufacturers of home furnishings in the world. From design through fulfillment, Ashley is committed to delivering the world's best home furnishing values, selection and service, and earning the loyalty and trust of its customers every day.
Ashley HomeStore is committed to being your trusted partner and style leader for the home. This commitment has made Ashley HomeStore the No. 1 furniture retailer in the U.S. and one of the world's best-selling furniture store brands with more than 700 locations in 36 countries.
Start designing your dream home today. Visit Ashley HomeStore Opens in a new window online. "Like" Ashley HomeStore on Facebook Opens in a new window, follow us on Twitter Opens in a new window and Instagram Opens in a new window , or see our design-focused boards on Pinterest Opens in a new window.