Ashley HomeStore Goes Country with High Valley's Farmhouse Sessions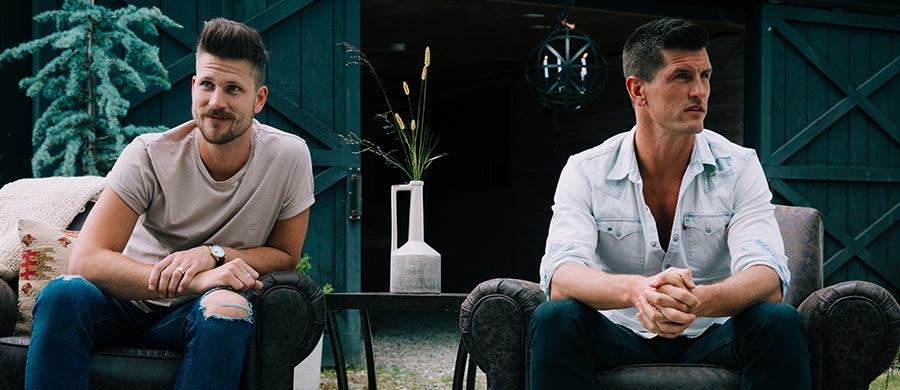 TAMPA, Fla. – Representing the importance of home, family and traditions, country duo High Valley recently collaborated with Ashley HomeStore to amplify their signature Farmhouse Sessions videos. Brothers Brad and Curtis Rempel combine folk, pop, bluegrass and country to create a powerful modern mix. Rooted in Nashville, High Valley uses their Farmhouse Sessions videos to bridge the gap between their rural upbringing and their breakout music career. Now filled with select pieces from Ashley HomeStore, the Farmhouse Sessions have become a major part of High Valley's musical presence as they often kick back and play on the family farm's front porch.
High Valley's relationship with Ashley HomeStore extends beyond the Farmhouse Sessions as the pair performed at the Ashley for the Arts event in 2016, a non-profit initiative that provides world-class entertainment, art, exercise and play for the entire family. The opportunity to work together became clear after the Rempel brothers emphasized how much they value family traditions and time spent at home, ideals that align closely with Ashley HomeStore.
In conjunction with the Farmhouse Sessions video series, Ashley HomeStore and High Valley launched a Farmhouse Sessions Sweepstakes. Fans entered the contest for a chance to win a room redesign with Ashley HomeStore as well as two concert tickets and two backstage passes to an upcoming High Valley show. The pair announced the winner via Facebook Live Opens in a new window during a stop on their "The Highway Finds Tour" last week.
Follow us on YouTube Opens in a new window to view more High Valley and other Ashley HomeStore videos.
---
Ashley HomeStore is committed to being your trusted partner and style leader for the home. This commitment has made Ashley HomeStore the No. 1 furniture retailer in the U.S. and one of the world's best-selling furniture store brands with more than 700 locations in 36 countries.
Start designing your dream home today. Visit Ashley HomeStore Opens in a new window online. "Like" Ashley HomeStore on Facebook Opens in a new window, follow us on Twitter Opens in a new window and Instagram Opens in a new window , or see our design-focused boards on Pinterest Opens in a new window.
Ashley Furniture Industries, Inc. (Ashley) feels that every person deserves more value for their money. Established in 1945, Ashley is one of the largest manufacturers of home furnishings in the world. From design through fulfillment, Ashley is committed to delivering the world's best home furnishing values, selection and service, and earning the loyalty and trust of its customers every day.