Ashley Furniture Hosts More Than 400 Students in Celebration of National Manufacturing Day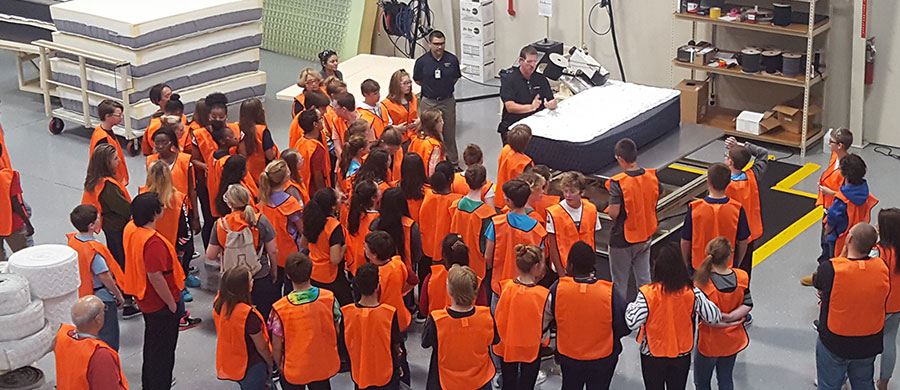 ARCADIA, Wis. – Throughout the month of October, Ashley Furniture Industries, Inc. (Ashley) hosted several onsite events as part of National Manufacturing Day. Although Manufacturing Day is officially the first Friday in October, Ashley hosted multiple events throughout the month. Manufacturing Day is a celebration of modern manufacturing meant to inspire the next generation of manufacturers. Ashley facilities welcomed more than 400 grade school students to tour manufacturing and distribution facilities and learn more about opportunities in the field of manufacturing.
Ashley's Arcadia facility in Wisconsin, hosted more than 200 sixth and seventh grade students from the Whitehall and Arcadia School Districts. The students toured the facility and participated in a manufacturing-based activity to learn about team work, communication and the workflow of an assembly line. Ashley's Founder and Chairman of the Board, Ron Wanek, spoke about the economic impact manufacturing has on the local and national economy. In addition, Wanek spoke on the need for engineering and technology skills to support the future of advanced manufacturing.
Ashley's Advance, North Carolina facility welcomed 200 eighth grade students from Davie County School District to partake in a facility tour. Following the tour of Casegoods, Upholstery and Bedding manufacturing, students also heard a message from Ron Wanek who invited special guests Julia Howard, North Carolina State Representative, and Terry Bralley, President of Davie County Economic Development Commission to participate in the event.
All Ashley presenters focused on inspiring students about manufacturing by showcasing their work areas, educational background, and the variety of opportunities Ashley Furniture has to offer. Ashley is on the forefront of advancing the manufacturing process, to create a more efficient and timely product for customers around the world. With a focus on enhancing technology and engineering fields, Ashley and the Wanek family continue to invest time and resources into promoting STEM programs to prepare students for the future of manufacturing.
---
Ashley Furniture Industries, Inc. (Ashley) feels that every person deserves more value for their money. Established in 1945, Ashley is one of the largest manufacturers of home furnishings in the world. From design through fulfillment,Ashley is committed to delivering the world's best home furnishing values, selection and service, and earning the loyalty and trust of its customers every day.
Ashley HomeStore is committed to being your trusted partner and style leader for the home. This commitment has made Ashley HomeStore the No. 1 furniture retailer in the U.S. and one of the world's best-selling furniture store brands with more than 700 locations in 36 countries.
Start designing your dream home today. Visit Ashley HomeStore Opens in a new window online. "Like" Ashley HomeStore on Facebook Opens in a new window, follow us on Twitter Opens in a new window and Instagram Opens in a new window , or see our design-focused boards on Pinterest Opens in a new window.