Brandon Foundation Partners with Ashley HomeStore to bless the Foundation Angel Families and children with brand new beds.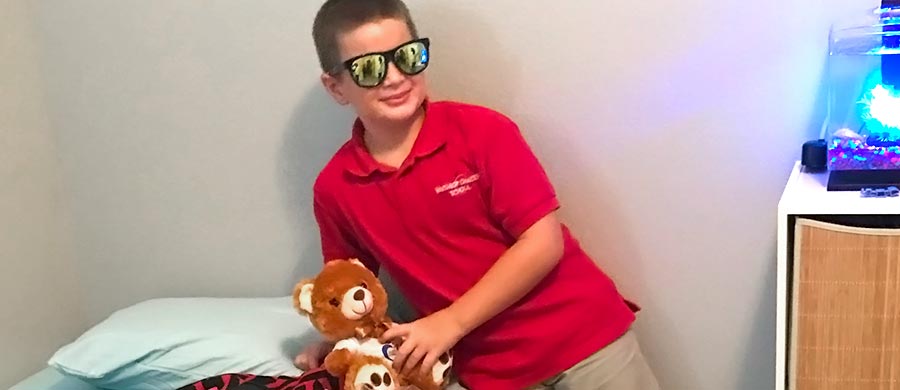 Brandon, FL - October, 2017 The Brandon Foundation is the proud recipient of 35 twin beds that were generously donated by Ashley HomeStore through their "Hope To Dream" program.
The Brandon Foundation's Angel program assists families in the Greater Brandon Community affected by a life threatening disease or catastrophic event. After Hurricane Irma, the Foundation received numerous calls from families who lost everything and had no place to live. Through this wonderful partnership, the Foundation can now store the twin beds and will deliver them to the families once they are settled into a new home.
Two of the Brandon Foundation's Angel families benefitting from this wonderful donation are single mothers fighting cancer. Brandon Foundation Executive Director, Liz Brewer, shared a single mother has daily financial challenges providing for her children but when you are diagnosed with a life threatening disease and are unable to work, the simple pleasures we often take for granted, like a twin bed for our children, is difficult to afford. This donation is going to change the lives of not only the Moms, but also the lives of their children.
Ashley HomeStore's Hope to Dream program is truly honored partnering with Brandon Foundation, said Ruthie Bautista, Hope to Dream Ambassador. It allows us to make a difference in children's lives by providing a comfortable bed essential to better sleep at night. We can't wait for these children to receive their brand new twin beds and complete bedding set in the coming weeks.
The foundation will be holding its' 14th annual "Evening of Hope, A Parisian Experience" on November 3rd, 2017 at The Regent in Riverview, FL. For more information about the Foundation and this community event, visit www.BrandonFoundation.org or call 813-689-6889.
---
Hope to Dream - Ashley Furniture HomeStore believes that every child deserves a good night's sleep. Founded in 2010 on that guiding principle, Ashley HomeStore's "Hope to Dream" program provides mattress sets to less fortunate children across the U.S. A portion of the proceeds for every mattress purchased at a participating Ashley HomeStore helps pay for a mattress set for a child in need. Since its inception, more than 50,000 children have received a brand new mattress set. Those wishing to nominate a child can visit the Hope to Dream Opens in a new window website or request an electronic application by email. In-store applications are also available at participating locations.
Ashley HomeStore is committed to being your trusted partner and style leader for the home. This commitment has made Ashley HomeStore the No. 1 furniture retailer in the U.S. and one of the world's best-selling furniture store brands with more than 750 locations in 36 countries.
Start designing your dream home today. Visit Ashley Homestore Opens in a new window, "Like" Ashley HomeStore on Facebook Opens in a new window, follow us on Twitter Opens in a new window and Instagram Opens in a new window, or see our design-focused boards on Pinterest Opens in a new window.