Ashley Furniture Breaks Ground on 877,230 sq. ft. Distribution and Fulfillment Center in Mesquite, TX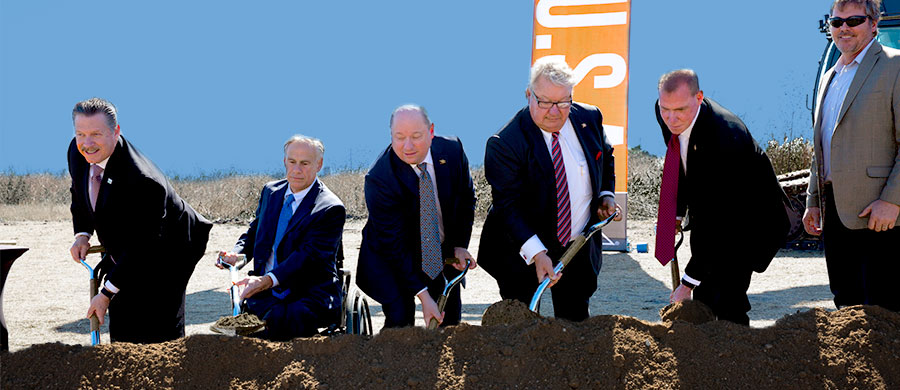 MESQUITE, TX – On Tuesday, October 17th, Ashley Furniture Industries, Inc. (Ashley) celebrated the groundbreaking of a new 877,230 square foot distribution facility. This facility, located in Mesquite, will house a Distribution and Fulfillment Center to service the South central market. State and Local officials along with community leaders joined company executives at the groundbreaking site for Ashley's first owned facility in Texas since their presence in 2015.
We are excited to establish our presence in the state of Texas and in the Mesquite community, said Todd Wanek, President and CEO of Ashley Furniture Industries. The investment our company is making in this facility is a direct example of our continued commitment to our customers and servicing them in a timelier fashion.
Ashley currently leases a distribution facility, also in Mesquite, that has 171 distribution and transportation employees. With the completion of the new, larger facility, the company will add close to 100 new jobs over the next year. The additional space will allow Ashley improved "speed to market" through higher in-stock levels to better serve the region's customers. The Distribution and Fulfillment Center is expected to be completed by September 2018.
The hundreds of jobs Ashley Furniture is bringing to the Lone Star State is the latest example of the economic diversification Texas enjoys, said Governor Abbott. I am proud to help break ground on such an impressive facility that will be an economic boost to the Mesquite community and the Texas economy. The strength and spirit of hardworking Texans has been on full display these past few weeks, and that is exactly what Ashley Furniture is investing in with their new facility in Texas.
Phase one of the new facility houses 20 acres under roof on Ashley's 355-acre site. Ashley plans to expand this facility as the demand continues to grow.
Ashley Distribution Services, LTD was established in 1974 by Ashley Furniture Industries, Inc. and today is one of the industry's largest private fleets. Ashley Distribution Services delivers Ashley Furniture to Ashley HomeStores and customers throughout the U.S. With a growing fleet, Ashley Distribution Services continues to expand beyond delivering furniture. Visit Ashley Distribution Services Opens in a new window online.
Ashley Furniture Industries, Inc. (Ashley) feels that every person deserves more value for their money. Established in 1945, Ashley is one of the largest manufacturers of home furnishings in the world. From design through fulfillment,Ashley is committed to delivering the world's best home furnishing values, selection and service, and earning the loyalty and trust of its customers every day.
Ashley HomeStore is committed to being your trusted partner and style leader for the home. This commitment has made Ashley HomeStore the No. 1 furniture retailer in the U.S. and one of the world's best-selling furniture store brands with more than 700 locations in 36 countries.
Start designing your dream home today. Visit Ashley HomeStore Opens in a new window online. "Like" Ashley HomeStore on Facebook Opens in a new window, follow us on Twitter Opens in a new window and Instagram Opens in a new window , or see our design-focused boards on Pinterest Opens in a new window.