Western Technical College hosts ribbon-cutting ceremony for new Ashley Furniture Industrial Automation Lab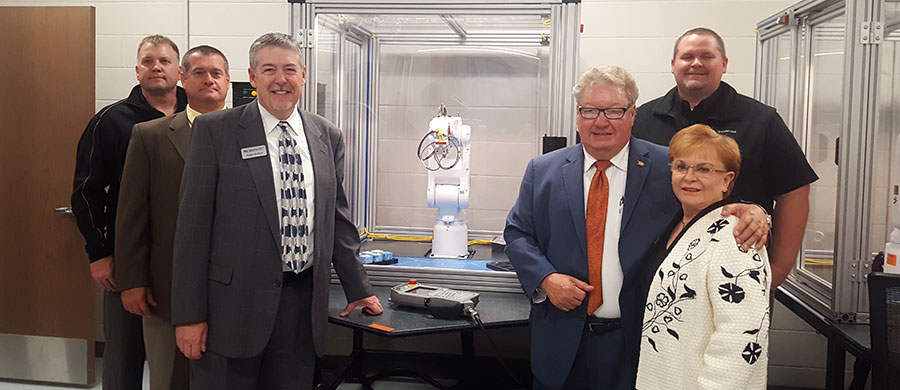 LA CROSSE, Wis. – On Friday, October 6th, Western Technical College and Ashley Furniture Industries held a ribbon-cutting ceremony for the newly completed Ashley Furniture Industrial Automation Lab.
The lab features six Yakasawa robots along with three simulator units that will be used to train students in Western's Electromechanical Technology program, as well as incumbent workers.
We have a wonderful, state-of-the-art facility at the Integrated Technology Center, said Western Technical College President Roger Stanford. Partnerships like the one with Ashley Furniture help keep our students working with cutting-edge technology, and learn the skills necessary in today's age.
We are thrilled with the outcome of the Ashley Furniture Industrial Automation Lab at Western Technical College, said Ron Wanek, Founder and Chairman of Ashley Furniture Industries. This new space allows students and the local workforce a hands-on training opportunity to increase their skill set and robotics education. Automation skills are an essential piece as we continue to compete in the global economy.
In addition to the donation of the robots, the Ron and Joyce Wanek Foundation has made a donation to Western's Foundation that have allowed Western faculty to become certified on the equipment. Western is the only technical college in this region with both the automation lab and the instructor certification required to fully train all levels of robotic technicians.
In total, Ashley Furniture's contributions exceeds over $470,000 in form of equipment donations and paid instructor training certifications for Western Technical College.
Ashley Furniture Industries, Inc. (Ashley) feels that every person deserves more value for their money. Established in 1945, Ashley is one of the largest manufacturers of home furnishings in the world. From design through fulfillment, Ashley is committed to delivering the world's best home furnishing values, selection and service, and earning the loyalty and trust of its customers every day.