Ashley Furniture Contributes $20,000 to the Independence School District S.T.E.M. Program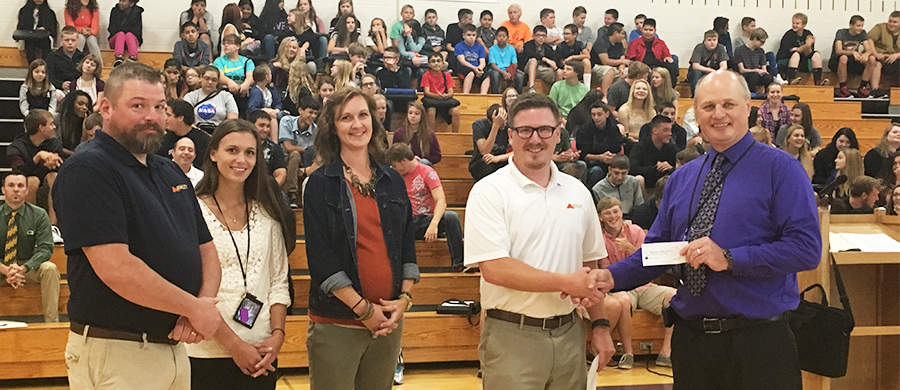 ARCADIA, Wis. – Ashley Furniture Industries, Inc. (Ashley) and the Wanek family contributed over $20,000 to the Independence S.T.E.M program at the Independence Public School on September 1st. The donation to the S.T.E.M program will support the upgrades to the Independence Middle and High School Science, Technology, Engineering, and Mathematics programs.
As part of the S.T.E.M. program, middle school students will now have a "Project Lead The Way" (PLTW) - Design and Modeling class. High school students will also be able to take a PLTW - Principles of Engineering Class as an upper-level science course.
Through this monetary donation, the middle school core science program will receive a complete overhaul, where IQWST curriculum will serve as a foundation. In preparation for S.T.E.M. program, the Independence Public School teachers participated in several weeks of professional development to prepare for the implementation of significant upgrades and materials. Through this new program, teachers will engage students in problem-solving while having the students work in a "hands on" environment. The program focuses on the "Minds on Learning" techniques to strengthen student skills in writing, reading, and speaking about science. 
When we invest in our students, we invest in our future. said, Todd Wanek, President and CEO of Ashley Furniture Industries. Ashley proudly supports the Independence School District in their investment to inspire student innovation and enhance the quality of education in the S.T.E.M. fields.
Independence Public School extends our most sincere appreciation for the support of Ashley Furniture in this important shift in our science curriculum and for their investment in our student's education. said Dawn Woychik, Director of Curriculum, Instruction and Assessment for Independence Public School.  
Throughout the upcoming fall, annual partnership meetings will be held at the Independence Public School to for local professionals working in the science and engineering fields to review the progress made through the S.T.E.M. program.