Ashley for the Arts Breaks Another Attendance Record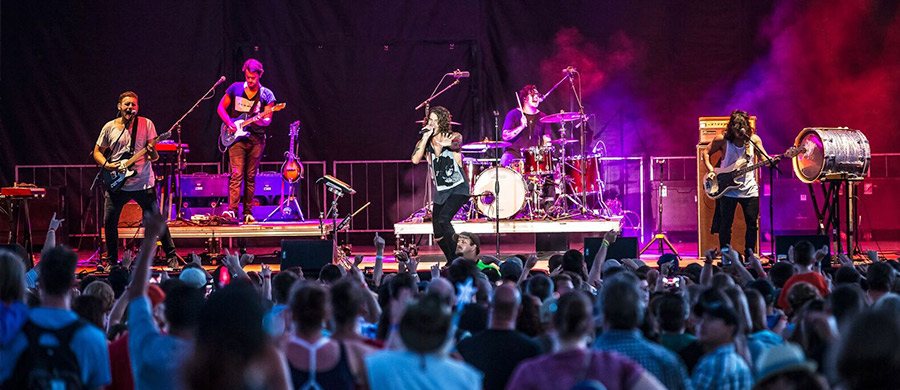 ARCADIA, Wis. – Ashley for the Arts, one of Wisconsin's largest charity events, hosted more than 35,000 guests at its 3-day music and art festival in Arcadia's Memorial Park. In spite of an extended rain on Friday, overall attendance increased by 8,000 over last year's event. The event, now in its 8th year, has matured into a bona fide hit among music and art festival patrons from throughout the upper Midwest. It also raised more than $300,000 for nearly 30 participating non-profit organizations. More than 2,500 volunteers participated in this year's event.
Thursday, August 11th kicked off Ashley for the Arts with its annual Pursuit of a Cure 5K (and Miracle Mile) Run-Walk. Pursuit of a Cure acts as a fundraiser to advance medical research and help offset the medical-related costs that patients incur. Each of the 260 plus participants were able to choose a charitable organization where 100% of their registration funds went towards. More than $18,000 was raised over the weekend benefitting the American Cancer Society, Rita Tranberg Memorial, OLPH Mission, and the Arcadia Ambulance Service. 
Despite the rain on Friday, fans of the festival arrived by the thousands to attend this one-of-a-kind charity event. Two miles of walkways subtly directed pedestrian traffic by art and craft vendors, four music stages, a car show, hot air balloon launches, two air parks (featuring bouncy houses and obstacle courses), an interactive art station, and a kids jungle gym and playground area. Two of the 19 supported school districts, Arcadia and Galesville-Ettrick-Trempealeau, performed on the iconic Amphitheater Stage with their A Capella Choirs to kick off the night's musical entertainment. Regardless of the rain, headlining entertainers Kellie Pickler and Chicago delivered incredible performances to over 10,000 people on the Ashley for the Arts Main Stage followed by LOCASH rocking the Amphitheater Stage in style to end the night's festivities.
For the final day on Saturday, August 13th of Ashley for the Arts, local school districts started the music entertainment on the Amphitheater stage. The Independence Vocal Jazz Choir, Arcadia Middle School Choir and High School Marching Band, Whitehall's Band, Eleva-Strum's Choir and Band, Galesville-Ettrick-Trempealeau's Jazz Band, Blair-Taylor's Vocal Jazz "The Early Birds", Osseo-Fairchild's High School Choir and Band, Cochrane-Fountain City's Jazz Band, and Winona Cotter's Marching Band showcased their extraordinary talents.
Additional music entertainers and many family-friendly off stage performances occurred throughout Memorial Park, including a wheel of death, juggling, balloon sculptures, bubbles, Wild West-themed performances, a living statue, a scavenger hunt, and a Mexican Dance group which performed near the Pavilion dressed in traditional attire.
As Saturday progressed, more than 25,000 people gathered in the park to watch the headlining performances from High Valley, Craig Morgan and American Authors on the Main Stage. After high energy performances by High Valley and Craig Morgan, the atmosphere was ripe for American Authors to take the stage – and they did not disappoint. The stage was set, the atmosphere was right, and the Brooklyn based group engulfed the audience in a magical performance while sky lanterns flew overhead. Fireworks immediately followed, lighting up the night sky.
To close the evening's festivities, and adding the exclamation point to Ashley for the Arts, X Ambassadors filled the entire Amphitheater bowl with fans from all over the Midwest. Standing shoulder to shoulder, hands swaying in the air, the crowd sang along to all their favorite songs, taking cue from the energetic frontman Sam Harris.
At the exceptionally low-cost of $10 to the 3-day festival, Ashley for the Arts continued to add to its popularity as a premiere music and art fest destination. Memories were made, magic was created, and over $300,000 was raised for nearly 30 non-profit organizations.