As the Demand for Christmas Angels Continues, Salvation Army and Ashley HomeStore Make Holiday Magic Happen – Almost 35,000 Kids and Still Going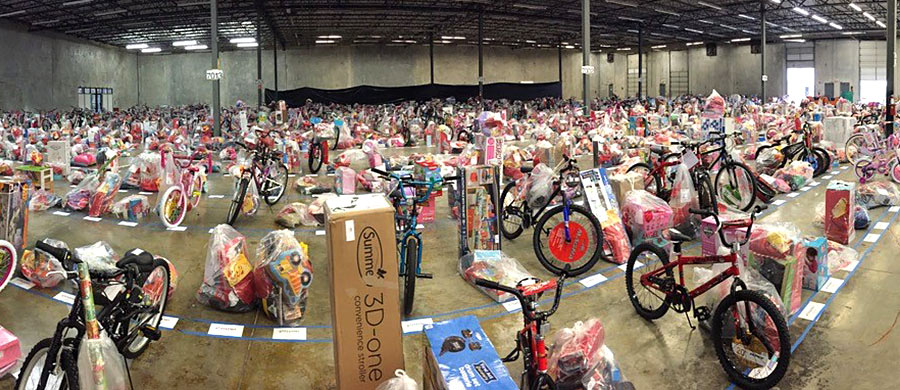 Jacksonville, Fla. – Jacksonville, FL Ashley HomeStores have been the largest distributor of Angel Tree Angels for the Salvation Army's Angel Tree initiative for seven years, with the community rushing to Jacksonville's three HomeStores this year to secure their Angels even before the launching its annual media campaign to support the program.
In fact, more than 4,300 children and 780 low-income seniors were Angel Tree recipients this season, a demand that Ashley HomeStore-Jacksonville CEO Howard Fineman is proud to see the community meet. It's truly amazing to think that our teams have been able to assist nearly 35,000 children here in our community over the past few years… I couldn't be prouder of their efforts to continue to give back here at home.
We started doing this seven years ago because it made our team feel great that we could leverage our locations and marketing to help the community in such a profound way, said Fineman. To know that there is such great need this close to home and be able to make a difference is a gift to us, to our team and the community we serve.
Ashley HomeStore devotes showroom space for the "Angel Trees" so that guests can choose their anonymous Angels. The HomeStores then store bags and bags of gifts until the Salvation Army picks up the gifts for distribution.
The Salvation Army's Angel Tree program makes an enormous difference to thousands of children every Christmas, said Major Rob Vincent, Area Commander of The Salvation Army of Northeast Florida. Christmas is about so much more than gifts, but for a child, having a surprise under the tree creates a sense of joy and wonder. We think every child should have the opportunity to feel that on Christmas morning. We are so grateful to Ashley HomeStore for their longtime support of Angel Tree, which has touched nearly 35,000 lives cumulatively over the years of our partnership.
According to Fineman, it's more than the showroom display and financial support that makes a difference.
When a guest returns with their Angel's gifts it fills us with pride and takes our mission and sense of purpose to a whole new level, said Fineman. Our team has even grown to participate in the Toy Shop distribution center and we have groups that consistently participate as part of their holiday traditions. That's where you really see the amount of lives that are touched by this program and that's why we continue to be involved.
Angel Tree is the Salvation Army's program that empowers the community to purchase gifts anonymously for children in need during the holiday season. Combined with St. Augustine, Clay County and Nassau County, NEFLAC Salvation Army Angel Tree program reached 5,140 individuals in 2016. For more information or to register as a recipient for the 2017 Angel Tree program, contact the Jacksonville Area Command at 904-301-4875.
Ashley HomeStore is the \#1 furniture and mattress retailer in America and the \#1 selling furniture store brand in the World. Locally, Ashley HomeStore has four convenient locations (St. Johns Town Center, River City Marketplace, Orange Park @ I-295, and Glynn Isles Market [Brunswick GA]). The retailer is an exclusive provider of furniture from Ashley Furniture Industries, Inc. (Ashley), the largest furniture manufacturer in North America. For more information on Ashley HomeStore and their products, visit the Ashley HomeStore website at http://www.AshleyHomeStore.com.
Source: prweb Opens in a new window