Ashley's Angels Provides for Over 1,000 Children this Holiday Season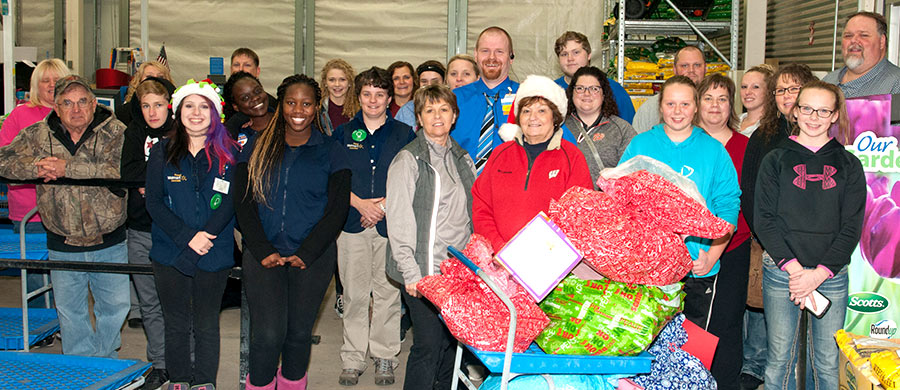 Arcadia, Wis. – Ashley's Angels spread the Christmas spirit this week by delivering truckloads of food, clothing, and toys to 1,056 children in need near Ashley Furniture manufacturing and distribution facilities in Mississippi, Pennsylvania, and Wisconsin.
This year, the non-profit organization raised $174,385.76 across the country. Ashley's employee contributions accounted for $74,952.72 of this total provided for children enrolled in 56 different school districts.
We had 20 full-time volunteers over the past couple of months to prepare for this year's program; with an additional 25 volunteers who helped us shop. With 533 children in Mississippi, it's an all hands on deck effort to provide a wonderful Christmas for these families, said Becky Jumper, President of Ashley's Angels in Mississippi.
The all-volunteer organization works with local schools - primarily school guidance counselors and nurses - to identify children who need some extra assistance. Every child in the program, along with his or her sibling(s), has the option to receive a warm coat, boots or shoes, clothes, blanket, and a special Christmas present. Each child's family also received a Christmas dinner with all the fixings.
This program takes countless hours of preparation, but the work is worth it to provide gifts and a meal to families who might not have the means for a great holiday, said Shari Wagner, President of Ashley's Angels in Wisconsin. The Wisconsin division shopped for 356 children this year.
The Ashley's Angels program was established by an Ashley Furniture truck driver from Mississippi in 1997 after he heard about a girl who was living in a car with her mother. The Ashley driver recruited help from other truckers to provide food, clothing, and additional assistance by helping the family find proper housing before Christmas. Seeing the impact that their efforts had made in this family's life pushed those involved to form Ashley's Angels.
Each year in December, volunteers are handed a shopping cart and a list to pick out clothes and toys based on the child's needs and desires. The gifts are then loaded on trucks and delivered to the area schools for distribution to the identified families the week before Christmas, ensuring that each child would have a gift to unwrap Christmas morning.
It just continues to grow, said Ryan Postal, President of Ashley's Angels in Pennsylvania. "We started the Pennsylvania Ashley's Angels in 2012, helping out 15 kids. Just four short years later, we have increased to 167."
Todd Wanek, Ashley Furniture's President and CEO, stated, I want to thank all of the volunteers and our employees for their selfless efforts in organizing and executing Ashley's Angels. Ashley is extremely proud of this wonderful program and the tremendous impact it has made on our communities.
Ashley's Angels encourages anyone interested in volunteering at next year's shopping event to sign up online at www.ashleyangels.org Opens in a new window under the 'volunteer' tab or email info@ashleyangels.org with their contact information.
About Ashley's Angels
Ashley's Angels is an all-volunteer non-profit organization that provides food, clothing, and blankets; and fills special gift requests for children in need each year. The organization has generated over $2,000,000 in donations and benefited more than 16,000 children in Mississippi, Wisconsin and Pennsylvania since 1997. The community patrons of Ashley's Angels, including local businesses and volunteers, partner with area schools to provide necessities, with hope for a better Christmas, to children who need it most. Ashley's Angels receives only the information that is necessary (e.g. shirt size) from participating school guidance counselors and teachers who keep the names of the recipients confidential. For more information on Ashley's Angels and upcoming events, we invite you to visit Ashley Angels' website Opens in a new window (www.ashleyangels.org). And for those of you who are interested, we encourage you to volunteer Opens in a new window at www.ashleyangels.org/contact-us.html.