Ashley Donates $300,000 to Myers Valley Flood Control Project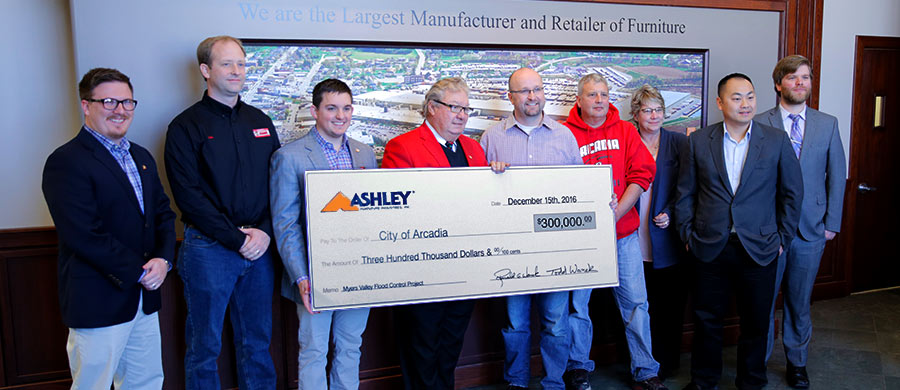 Arcadia, Wis. – The volatile Myers Valley Creek watershed has long been a thorn in the City of Arcadia's side. Thanks to the help of Ashley Furniture Industries, Inc. (Ashley), the risk of future flooding from this creek has been substantially reduced.
Since a devastating flood cost the City of Arcadia more than $10 million in damages in September 2010, city officials have worked diligently with its largest employer to ensure that it never happens again. Ashley assisted the City by donating 6 acres of premium industrial land and providing hundreds of hours of in kind services through its engineering, legal and public relations staff.
Ashley previously developed the 6-acre property for truck parking by removing 600,000 cubic yards of material. This excavation work reduced the cost of the Myers Valley Creek project by an estimated $2.4 million.
Construction of the new creek channel began on May 30, 2016. By the end of July, approximately 125,000 cubic yards of material were excavated and moved to form a new channel. Prior to the construction of the new channel, the former bridge at the entrance to DSM created a pinch point during flash flood events, causing the creek to overtop its banks and flood the city when this location was overwhelmed by upstream waters.
Upon completion, Ashley provided $300,000 in the form of two installment payments to help finance the project. DSM provided $80,000 to remove the bridge and construct a new entrance for their business.
Arcadia will also benefit from a $500,000 Community Development Block Grant from the Department of Housing and Urban Development (HUD) to help pay for the $1.5 million project. City officials stated that the flood control project has already passed two critical tests by protecting residents and businesses from two flash floods on August 12th and September 21st of this year.
The City of Arcadia appreciates Ashley's collective contributions to this project. Ashley is pivotal to our economy and it is our privilege to work with them, Mayor Reichwein said.
The Myers Valley Flood Control Project helps protect residents and businesses from major flash flood events, allowing them to focus on more important things, said Mayor Rob Reichwein. Arcadia is known as a progressive community and a leader in economic development for the region. The city's role is to provide the necessary infrastructure to encourage residents and businesses to invest and grow in Arcadia, and provide them with the peace of mind to thrive.