Ashley Furniture Partners with Wreaths Across America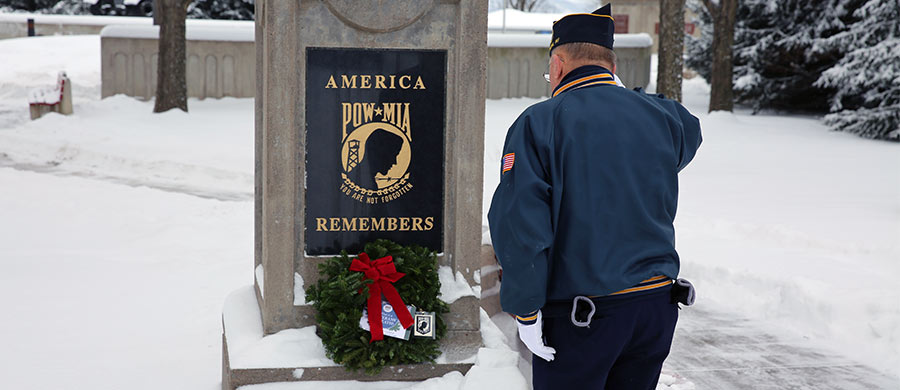 Arcadia, Wis. – Ashley Furniture is sponsoring a free and public ceremony with Wreaths Across America to honor veterans for their service to their country this holiday season. The event will occur at Soldiers Walk in Arcadia's Memorial Park on Saturday, December 17th, 2016 at 10 a.m. to commemorate National Wreaths Across America Day. As one of the premier war memorials in the United States outside of Washington, D.C., Soldiers Walk has become a staple visit for veterans and tourists alike touring the Upper Midwest.
During the ceremony, veterans (including, members of Arcadia's American Legion Post 17), community members and Ashley volunteers lay wreaths at each of the war memorials along Soldiers Walk. While this is happening in Arcadia, thousands of loyal volunteers and sponsors in over 1,100 additional locations in all 50 U.S. states, at sea, and abroad will be coordinating their own wreath-laying ceremonies to honor the contributions and sacrifice of U.S. veterans.
Leading up to this day, beginning in Maine, a parade of trucks travels down the East Coast on a mission to lay remembrance wreaths at the grave sites of veterans at Arlington National Cemetery in Arlington, Virginia, and other Veterans' cemeteries along the way. This year, Ashley Distribution Services is participating in the convoy. The Ashley truck and trailer will haul from Maine to Mississippi and Louisiana, delivering wreaths to nine different cemeteries.
About Wreaths Across America
Wreaths Across America is a 501(c)(3) nonprofit organization founded to continue and expand the annual wreath-laying ceremony at Arlington National Cemetery, begun by Maine businessman Morrill Worcester 25 years ago. The organization's mission, Remember, Honor, Teach, is carried out in part each year by coordinating wreath-laying ceremonies each December at Arlington, as well as at thousands of veterans' cemeteries and other locations in all 50 states and beyond. For more information, to sponsor wreaths or to sign up to volunteer, please visit www.WreathsAcrossAmerica.org. Follow Wreaths Across America on Facebook Opens in a new window and on Twitter Opens in a new window.
About Soldier's Walk
Among his many philanthropic contributions, Ron Wanek, founder of contemporary Ashley is the lead benefactor of the Avenue of Heroes/Soldier's Walk. Located at Memorial Park in Arcadia, Wisconsin, Soldier's Walk is the premier war memorial in the United States outside of Washington, D.C. This memorial captures all U.S. wars with monuments and memorials in chronological order along a 500 meter walk to honor those leaders and veterans who fought to give us the life and freedom we enjoy today. For more information on Soldier's Walk, visit the Soldier's Walk Memorial Park Opens in a new window website.