Ashley Furniture Employees Donate Over $35,000 to Le Bonheur Children's Hospital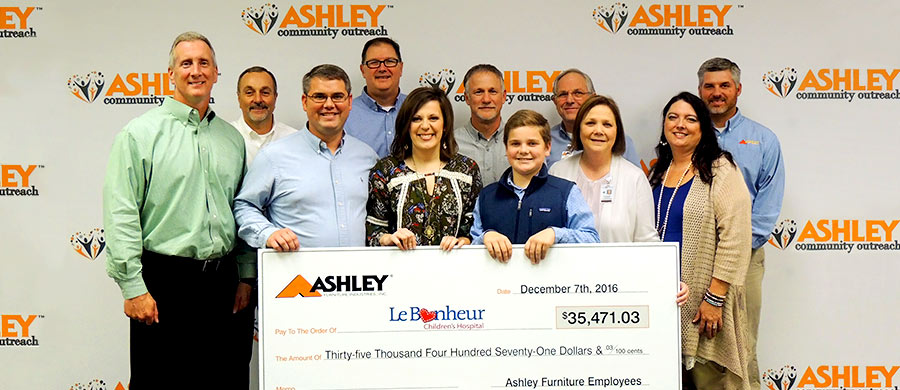 ECRU, Miss. – The employees of Ashley Furniture Industries, one of the largest manufacturers of home furnishings in the world, are pleased to announce the donation of $35,471.03 to Le Bonheur's Children's Hospital today. The donation, made possible through Ashley's "Dollar a Week" program, was raised through employee contributions from Ashley's Ecru, Verona, Ripley, and Saltillo Mississippi locations to support one of the leading children's hospitals in the United States.
"We are so grateful for the generosity of Ashley Furniture employees. Together, they have generously given of their own resources to ensure that every child in our community can count on Le Bonheur Children's Hospital in their time of need. Their gifts inspire all of us to do everything we can to help children and families," said Connie Haygood, Special Events Manager.
Along with representation from Le Bonheur Children's Hospital, Hunter Miller (a prior patient of Le Bonheur) and his parents attended the check presentation. A personalized tour of Ashley's Ecru facilities was provided to the family and Le Bonheur representatives to learn more about where these employees work, and how they manufacture world-class furniture.
It's truly amazing what our employees have raised through the 'Dollar a Week' program, said Todd Wanek, President and CEO of Ashley Furniture. Ashley has always been a proud supporter of our local communities and organizations – and what these employees have done is nothing short of incredible.
Ashley Furniture started manufacturing Stationary Upholstery furniture in Mississippi in 1994 in Ecru. In 2006, the Mississippi Ashley employees began making their yearly contributions, through the "Dollar a Week" program, to Le Bonheur Children's Hospital - amounting to over $120,000.
About Le Bonheur Children's Hospital
Le Bonheur Children's Hospital in Memphis, Tenn., treats more than 250,000 children each year in a 255-bed hospital that features state-of-the-art technology and family-friendly resources. Nationally recognized, Le Bonheur has been named by U.S. News & World Report as a Best Children's Hospital. Serving as a primary teaching affiliate for the University Tennessee Health Science Center, the hospital trains more pediatricians than any other hospital in the state. For more information, please call (901) 287-6030 or visit www.lebonheur.org Opens in a new window. Follow us on Twitter Opens in a new window at twitter.com/lebonheurchild or like us on Facebook Opens in a new window at facebook.com/lebonheurchildrens.