Ashley Furniture Dedicates New Advanced Technology Center; Adds Manufacturing Capacity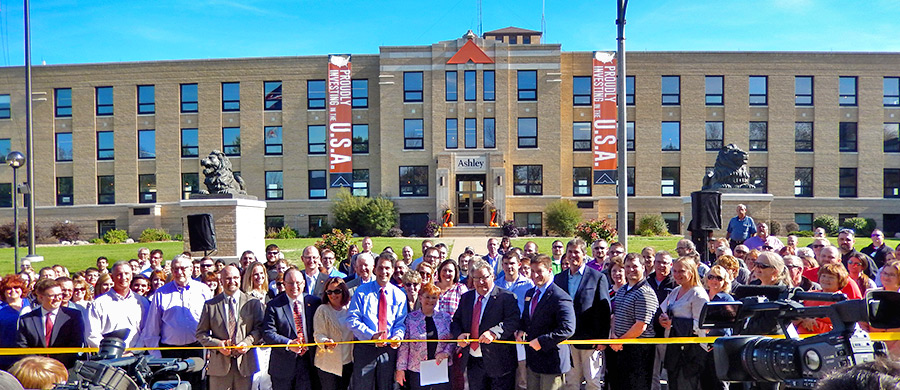 ARCADIA, Wis. – Western Wisconsin's "Can Do" city of 3,000 residents has added to its legend as a regional economic hub with Ashley's Furniture's announcement of two major investments in Arcadia.
Governor Scott Walker joined city officials, community leaders and company executives today on the front lawn of Ashley Furniture's new Chapel Hill Advanced Technology Center to celebrate the completion of the unique project's first phase of development. The name "Chapel Hill" was bestowed on the facility by Ashley CEO Todd Wanek, who felt that it was appropriate to memorialize its religious roots.
Ashley's Chapel Hill project includes the repurposing of a former hospital and chapel that was first built in 1948 by the Franciscan Sisters and members of the community.
During the ceremony, Ashley also announced it is nearing completion of a 155,000 square-foot expansion to its Plant 4 manufacturing and distribution facility here that adds 36 loading docks.
Chapel Hill was the talk of the town, however, more than 5 years after the closing of the city's only hospital. Facility tours were provided to the general public before and after the dedication.
"Due to the historic nature of this building and its tie to the community, we took every precaution to preserve its original exterior," said Ashley Furniture CEO Todd Wanek. "We did our best to maintain some interior elements while updating it in function and design to create an inspiring workplace for our associates to meet our future business needs. This dedication is really a tribute to the four sisters who devoted their life to this facility. We're very proud to have preserved this building."
Ashley has completed remodeling the top two floors of the 82,000-square-foot building, and is in the process of remodeling the first floor. More than 200 office professionals, including members of Ashley's design and information technology teams, will occupy the technology center when the renovation is finished in the spring of 2017.
Chapel Hill's renovation features large rooms that add natural light. Ashley removed all sub ceilings and exposed mechanical systems to give the work environment a modern industrial look that is welcoming and bright. Workstations have adjustable heights with sit/stand capabilities.
The Ashley Furniture ribbon cutting ceremonies and Myer's Valley Creek relocation project announcement is great news for the citizens and business owners of Arcadia, Governor Walker said. Our goal, first and foremost, is to keep the people of Wisconsin, and their property, safe from harm. We're proud to work with the city of Arcadia, DNR, Ashley Furniture, and others to fund the Myer's Valley Creek relocation project to prevent future flooding and damage as well as encourage investment in the area. Ultimately, these projects will lead to more jobs and a stronger local economy.
Since 1970, Ashley Furniture's manufacturing workforce in Arcadia has grown by several thousand employees. Today's announcements reflect continued growth in demand for the company's case goods and upholstery products. The Plant 4 expansion project is expected to be complete by November 1, 2016.
Wanek said, I am extremely proud of the outstanding work our associates do every day for our customers. We are building a great future together.