Ashley Distribution Services, LTD
Company Overview
---
Shipping over 150,000 containers per year
In 1974, Ashley Furniture Industries. developed its own transportation subsidiary, Ashley Distribution Services Ltd. (ADS).
With its fleet of 1000 tractors and 4,000 trailers handling in excess of 150,000 containers per year, traveling over 60 million miles annually; no one delivers like Ashley Distribution Services (ADS) does. Ashley Distribution Services has one of only eight privately owned rail yards in the U.S. which allows reduced freight costs and staying on schedule. Frequent deliveries of mixed truckloads keep product flowing throughout the supply chain and straight to the consumer's home.
ADS's signature black trucks make up the furniture industry's largest fleet and generate over 6 billion consumer impressions each year. Each truck is outfitted with PeopleNet Onboard Computers which give ADS real time performance of every truck. Drivers' hours of service are also managed by PeopleNet's paperless logs.
Backhaul Services
Ashley Distribution Services has its own private fleet, which allows us to offer backhaul services. This service entails the driver pulling a non-Ashley load of freight to their next destination. Since the cost of driving a truck without a trailer is about the same as driving with a trailer, it makes financial sense to align with other organizations to be paid to pull their freight.
Fleet
Ashley Distribution Services is doing their part to restore, protect, and enhance our environment:
Auxiliary Power Unit/generators decrease emissions and fuel consumption. Truck engines burn one gallon per hour at idle; whereas an APU burns 1/10th of that.
Bio-diesel fuel is used when available.
Equipment is U.S. EPA SmartWay certified.
Kenworth and Volvo tractors have some of the highest fuel mileage and cleanest emissions in the industry.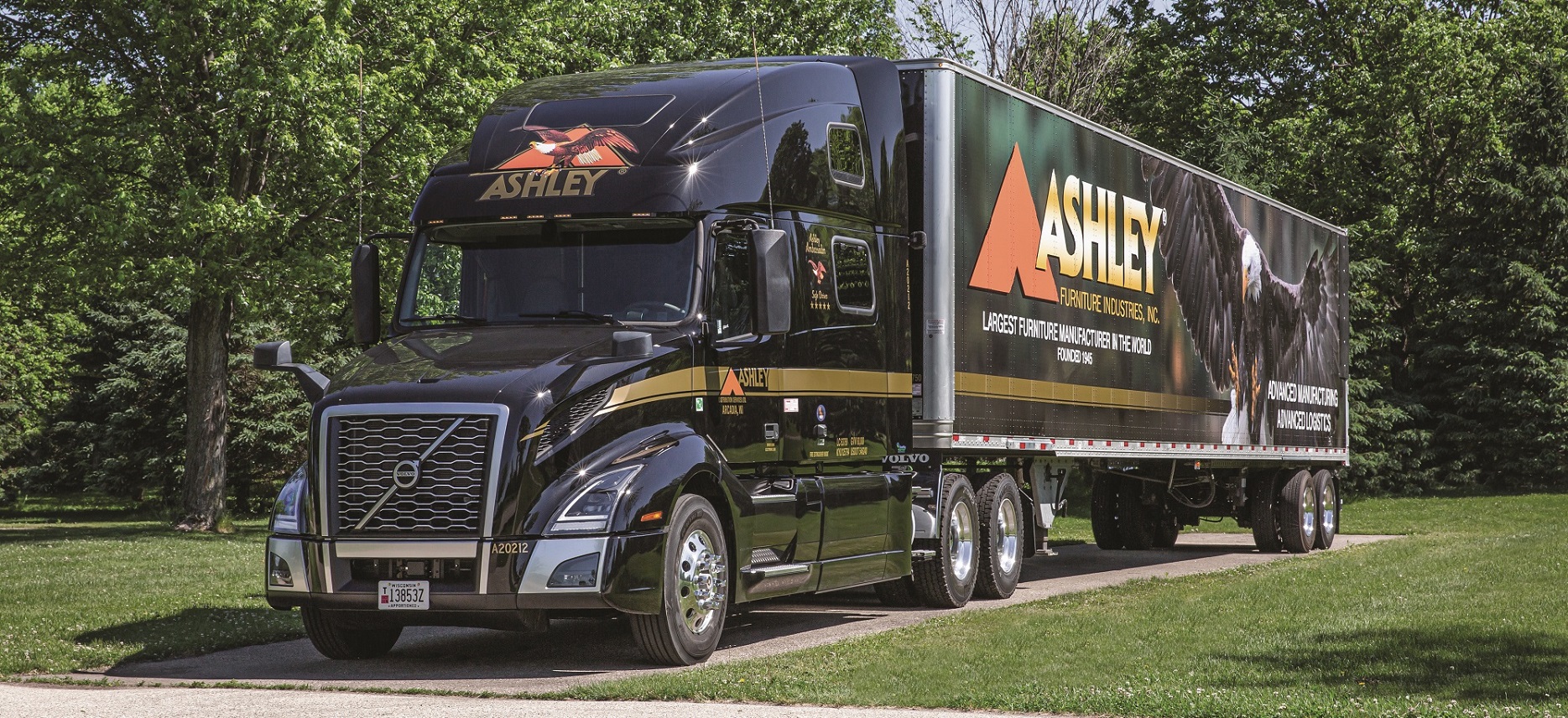 Awards and Recognition
Ashley Distribution Services takes great pride in maintaining a high level of service metrics such as on-time pickup and delivery performance as well as low claims percentage. The company has been nationally recognized for their safe and efficient work practices.
One of Transport Topics Top 100 private carriers.
National Private Truck Council / C.H. Robinson Excellence in Backhauling Award
Anheuser Busch Service of Excellence Award
CaseStack National Truckload Carrier of the Year Award
Transplace Private Fleet Carrier of the Year